Alien Apocalypse
(2005)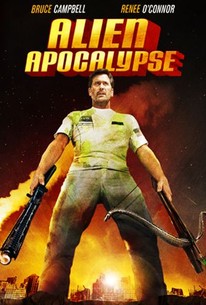 AUDIENCE SCORE
Critic Consensus: No consensus yet.
Movie Info
An astronaut doctor and his fellow space traveler return to planet Earth after an extended mission only to find that the human population has been enslaved by a race of evil aliens in director Josh Becker's kitchy tale of terror from the skies. Ivan Hood (Bruce Campbell) and his partner, Kelly (Renee O' Connor), have been away on a mission in deep space for 40 years. Of course, quite a lot can change over the course of four decades, and when Ivan and Kelly discover that the Earth has been overrun by finger-eating bugs from outer space, they set out to start a revolution designed to take back the planet.
Critic Reviews for Alien Apocalypse
Audience Reviews for Alien Apocalypse
This low-budget Sci Fi horror comedy is a horrible mess. This is a poorly constructed film, one that dull, unwatchable trash, one with a wasted lead actor in Bruce Campbell. The films premise is horrible, the plot is stupid and the acting and directing is awful. I understand that Alien Apocalypse is supposed to be a B movie, but man could it have been much better than this. The film is just too bad to keep you interested, and it was hard to finish this. One of Campbell's worst films this one will surely disappoint fans of the actor, I know I was. The problem with this film is that it tries to be a serious Sci Fi horror flick, when in fact; it's more a tongue in cheek ordeal. This film simply doesn't work, the execution is poor and the cast can't save such a poorly thought out dud. Josh Becker is a poor director, one that doesn't know how to craft a good, tense, funny film. Alien Apocalypse is pure cheese, a film that may appeal to B movie fans, but compared other Campbell efforts, this one sucks. Pass up on this one. The film is super low-budget, and the cast seem bored in their performances. There's absolutely nothing to enjoy here, and this film is purely a waste of time and not worth checking out. Bruce Campbell has made better films, and he clearly doesn't look like he wants to be in this. If you want a great Campbell flick check out The Evil Dead and Maniac Cop. However, Alien Apocalypse is one to avoid. This is uninspired poorly made trash that simply doesn't pay off.
Overall it's preachy and poorly structured. Kind of like the kind outside Old Navy who says there is no room in heaven for smokers.
Ken Stachnik
Super Reviewer
½
What if Planet of the Apes had bugs instead of monkeys, Bruce Campbell instead of Charlton Heston, more decapitations and human eating? Why, it would have kicked ass. Bruce Campbell makes a moderately entertaining B flick totally enjoyable as he hams his way through this Planet of the Apes rip.... homage. Becker also provides his usually entertaining directing and flair for absurd in this comic, made for TV fun film. Enjoy the over the top performances and the constantly changing number of people throughout scenes.
Christopher Brown
Super Reviewer
Alien Apocalypse Quotes
There are no approved quotes yet for this movie.