Alien Nation
(1988)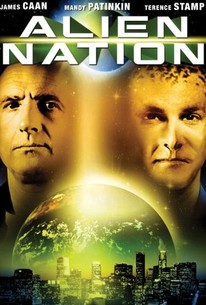 AUDIENCE SCORE
Critic Consensus: Alien Nation takes the interesting premise of extraterrestrials living among us and doesn't do enough with it, emphasizing a police procedural plotline over the more intriguing sci-fi elements.
Movie Info
In 1988, Earth makes the first contact with an alien civilization. In 1991, these aliens, known as Newcomers, slowly begin to be integrated into human society after three years of quarantine.
Critic Reviews for Alien Nation
Audience Reviews for Alien Nation
Whereas the premise is intriguing and the cultural differences between the two main characters are amusing for a while, soon the movie decides that it should be more action than sci-fi, imploding in an awful last half-hour full of car chases, stupid twists and ugly TV clichés.
Carlos Magalhães
Super Reviewer
I enjoyed the hell out of this. Check out this premise: In the futuristic world of 1992, Aliens have landed and we've granted them citizenship in our society. When James Cann's partner is killed, he's teamed up with one of these Aliens to help solve the crime. That alien is played by Mandy Patinkin. From there it's a fairly standard buddy cop film, but with some really funny gags. Well worth checking it out.
Ken Stachnik
Super Reviewer
A great film. A fantastic mixture of science fiction, suspense, comedy and action. A genre-bending classic that you cant help but love. A wonderfully entertaining winner that's just a great buddy-cop movie with lots to offer. A great new twist on a familiar background. A smart, funny and action-packed thrill-ride with solid performances and great special effects. James Caan and Mandy Patinkin are excellent together with their unique and effective chemistry. One of the coolest sci-fi tales of the 80's decade with Terminator and Aliens.
Alien Nation Quotes
There are no approved quotes yet for this movie.