Alien Raiders
(2008)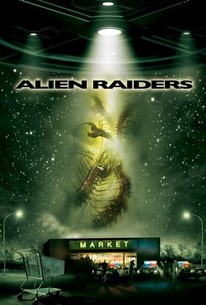 Movie Info
A small town supermarket serves as the setting for this suspenseful sci-fi thriller about a malevolent alien seeking to take over the human race. Nothing unusual ever happens at Hastings Market, so when a heavily armed gang enters the store guns blazing at closing time, the terrified shoppers and employees at first assume they're the victims of a violent armed robbery. But appearances can be deceptive, as they're about to find out. Something inhuman has gotten loose inside Hastings Market - something that, if allowed to escape, could bring about the downfall of humanity. Now, as the police surround the building, a mysterious man begins scanning everyone inside in an attempt to root out the alien invader. Within one of these people dwells an extraterrestrial with the power to claim our planet as its own. But the worst is yet to come, because when an off-duty cop attempts to play hero, he inadvertently destroys any chance of determining which one of the hostages is serving as host to the alien. Now, the only way ensure the survival of our species is to kill everyone in sight, or die trying.
Critic Reviews for Alien Raiders
Audience Reviews for Alien Raiders
½
A great alien film. Almost as good as "Unearthed." Although it is kind of a rip off of the 1978 film "Alien" and it's sequel "Aliens," it was much different than any other alien film, and had a good location for it.
Jacob Palacio
Super Reviewer
½
Well what can I say about this movie? Did you like "The Thing"? If the answer is yes, then you will love this. Its basically "The Thing" in a supermarket. Trust me, its a lot better than it sounds! Watch it
Stuart Brooks
Super Reviewer
Just finished watching this. It was a low budget movie but not that bad. Liked the ending.
Dead Angel
Super Reviewer
Alien Raiders Quotes
| | |
| --- | --- |
| Kane: | It was all cracked up and stung me....I hurt it. Busted a couple times, a couple of bullets. It was frozen for a second. It's all confused. |
| Kane: | It was all cracked up and stung me... I hurt it. Busted a couple times, a couple of bullets. It was frozen for a second. It's all confused. |