Alien Resurrection (Special Edition)
(2007)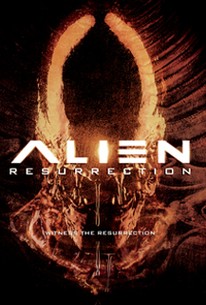 AUDIENCE SCORE
Critic Consensus: No consensus yet.
Movie Info
Get even more sci-fi action as the resurrected Ripley is full of surprises for her resurrectors - as are the aliens they've attempted to imprison! -- (C) Fox
Critic Reviews for Alien Resurrection (Special Edition)
There are no critic reviews yet for Alien Resurrection (Special Edition). Keep checking Rotten Tomatoes for updates!
Audience Reviews for Alien Resurrection (Special Edition)
½
Everything from the first Alien, a crew of misfits sorta arguing with one another throughout, a dark spaceship to explore the way out of, military and scientists way out of control, and finally, a horde of killer land sharks with two sets of teeth and feet to boot, acid blood, and a nasty attitude. I liked it again (despite all the weird Ripley loving on the Alien sequences ... what was that all about?)
Kevin M. Williams
Super Reviewer
½
200 years after the death of Ellen Ripley she is cloned by yet more misguided scientists in order to breed the species for their research on board a military vessel. Alien 3 tried to follow the template of the first film with some flawed success and Alien Resurrection does the same for its sequel Aliens with similar results. The very contrived premise is one that you have to accept considering Ripley died at the end of the previous film but the whole alien hybrid concept is a little harder to swallow. Joss Whedon actually disowned the script after various studio rewrites but it does have some very nice moments; particularly the scene in which Ripley confronts "herself" and the idea of self aware androids consumed with self loathing. Jeunet also stamps his own brand of attractive visual invention on the proceedings and the effects are streets ahead of Alien 3's. The aliens also have a lot more character and the set pieces are executed with some real panache, especially the underwater pursuit that reminded me of a futuristic Poseidon Adventure! Unfortunately it falls down at the last hurdle with the afore-mentioned hybrid that's a slightly ridiculous idea and the creature itself looks rubbish. The journey there is very entertaining though and despite being the least inventive of the series it's still a creditable addition to the franchise. But inevitably, it's once again nowhere near as good as the first two. The special edition adds little to the original story to be honest, with a rather poorly judged "Men In Black" style intro and brief final scene set on Earth which you take take or leave with little impact on the overall film.
Alien Resurrection (Special Edition) Quotes
There are no approved quotes yet for this movie.