All Good Things
(2010)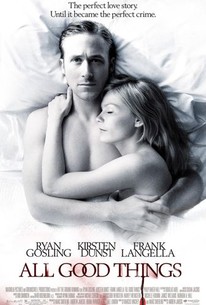 TOMATOMETER
AUDIENCE SCORE
Critic Consensus: It's well-acted, and the true story that inspired it offers plenty of drama -- which is why it's so frustrating that All Good Things is so clichéd and frustratingly ambiguous.
Movie Info
Inspired by the most notorious missing person's case in New York history, ALL GOOD THINGS is a love story and murder mystery set against the backdrop of a New York real estate dynasty in the 1980s. Produced and directed by Andrew Jarecki (director of the Academy Award-nominated doc Capturing the Friedmans and producer of Catfish), the film was inspired by the story of Robert Durst, scion of the wealthy Durst family. Mr. Durst was suspected but never tried for killing his wife Kathie who disappeared in 1982 and was never found. The film stars Ryan Gosling, Kirsten Dunst and Frank Langella as the powerful patriarch, and captures the emotion and complexion of this real-life unsolved mystery. -- (C) Magnolia
News & Interviews for All Good Things
Critic Reviews for All Good Things
Audience Reviews for All Good Things
½
It is curious to see that they changed the names of everyone involved in the Robert Durst case when even the character's sworn statement in court is exactly the same, and this is a dark, heavy drama about how people you think you know can change - or show who they truly are.
Carlos Magalhães
Super Reviewer
Based on a true story, which is apparently the most notorious missing person's case in New York history, this is a film about love, secrets, darkness and a murder mystery going from the 1970s to 2002, and covering locations such as all over New York, Vermont, and Texas. Katie is a nice, attractive blonde who happens to fall in love with David Marks, the charming and handsome oldest son of Stanford Marks, a super wealthy real estate guru who owns half of Times Square. Thigns start off well enough for David and Katie, but then he feels pressured to give in to his father's wishes and do as he's expected by being a part of the family business instead of trying to live a normal life like the kind Katie is used to. As time goes on, David becomes increasingly more moody, withdrawn and violent, and as the relationship really starts to decline, it all comes to a head when Katie disappears without a trace in 1982, with no conclusion ever being reached, which holds true to the story this is all based on. The past few years have been dominated by Gosling, with him being a part of a number of films, in a variety of roles. This one is probably the darkest and creepiest of the bunch, and it is some very compelling and eerie stuff. This film has romance, but it's mostly a thriller, and I liked that. It's not without it's faults though. At one point Katie says "I've never been closer to anyone, yet I know nothing about you!" or something along those lines. Well, that's how it is for the audience too. We really don't truly know all that much about David, or why he is the way he is, and does what he does. We get glimpses and clues, sure, but I'm not entirely convinced that even the director knows what to make of him. Also, and perhaps this is due to the fact that the real case is still unsolved, this just kidna ends without really much of a resolution, or at least a concrete one. However, even then, this still held my attention, and kept me glued to the screen, so hats off there. Gosling is great as David. He's creepy, compelling, and you really aren't sure what he'll do next. As Katie, Kirsten Dunst is tremendous. This is a standout role for her, and it shows her taking some previously unwitnessed risks and direction with her career. She does great at playing troubled and scared, and she even briefly has her first nude scene. It's not much, but she looks good and gets through it just fine. Here's to hoping that, given the right part, she'll be willing to bare herself again in future films. Frank Langella is chilling and stunning as David's cold, powerful father. He's a jerk, yet he's not completely wrong with his views. He's flawed, but well rounded. It's also fun seeing Nick Offerman and Kristen Wiig make brief appearances playing against type, and seeing Philip BAker Hall banter about with Gosling was also a treat. The film is a little unfocused and disjointed, but once it gets going, it's quite a ride that offers several moments of dread, atmosphere, and juicy mystery.
Chris Weber
Super Reviewer
½
Good, but had an unsatisfying ending. (which obviously can't be helped since it was based on a true story and the truth was never found out there either. I so hope Katie ran away and disappeared, but sadly it seems pretty likely she was murdered. Kirsten Dunst and Ryan Gosling are both great here. I did feel that Kirsten really made this movie and it got duller once she disappeared, but still an interesting and creepy story. Really makes you pity what some women feel they have to put up with in a relationship.
Nicki Marie
Super Reviewer
All Good Things Quotes
| | |
| --- | --- |
| Katie Marks: | Ever thought about having children? |
| | |
| --- | --- |
| Katie Marks: | I've never been closer to anyone, and I don't know you at all. |
| | |
| --- | --- |
| Stanford Marks: | She's never going to be one of us. |
| David Marks: | I know. Isn't that great? |