All Night Long
(1962)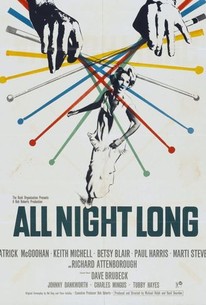 AUDIENCE SCORE
Critic Consensus: No consensus yet.
Movie Info
This film is Othello to a progressive-jazz beat. The film's "Iago" is drummer Patrick McGoohan, who plants the seeds of jealousy in the ear of "Othello" -- or rather, bandleader Paul Harris. McGoohan hopes that, by destroying Harris' marriage, he will be able to step into the bandleader's job himself.
Critic Reviews for All Night Long
All Critics (3) | Fresh (2) | Rotten (1) | DVD (1)
[Director Basil Dearden] keeps a good beat here and directs the actors to a snappy rhythm.
Anyone looking for straight drama will find the narrative with its doped cigarettes, tape-recorder stratagems, copious intrigues, corny jazz jargon spoken in mid-Atlantic accents, and more or less happy ending, both unconvincing and wearying.
... the elegance of the camerawork, the machinations of the plot and the fun of seeing these musicians performing onscreen keeps the film involving.
Audience Reviews for All Night Long
"All Night Long" starts with Rod Hamilton(Richard Attenborough) arriving at an anniversary party he is throwing for bandleader Aurelius Rex(Paul Harris) and his wife Delia Lane(Marti Stevens), a retired singer, with Charles Mingus(the man himself!) already warming up. Arriving unfashionably late and separately are drummer Johnny Cousin(Patrick McGoohan) and his wife Emily(Betsy Blair). Johnny is in the process of negotiating a deal with Lou Berger(Bernard Braden) to lead his own band. Now, all he needs is Delia to come out of retirement. "All Night Long" is an elegantly constructed and fast paced movie, set over a single night(possibly in real time?), fueled by some wonderful music including a classic bongo solo and Dave Brubeck on piano. With the collision between musicians and actors, a wide variety of performance styles are on display, culmnating with McGoohan's twitchiness, implying that Johnny may need pot to take the edge off whatever else he is taking. That's not his only problem as Johnny does not play well with others and sees time running out at the age of 35, so he wants to break up Delia and Rex to free her to join his band. The tragedy here is that nobody asks Delia what she wants which people have to respect, even if they do not agree with her.(At the same time, the story Emily gives about her first meeting with Johnny has to be about the saddest thing I have ever heard.) Of little relevance to that is Delia being part of one of two interracial relationships in the movie at a time when they were very uncommon. While the film takes about 15 minutes to build up to introducing Delia and Rex, none of the characters care about the color of their skin, as it should be, in a film where there are one, maybe two, references to race.
Wow. Leave it to the Brits to produce an adaptation of Shakespeare as a meditation on race and interpersonal relations at the outset of one of the greatest decades of change. Othello, Shakespeare's own timeless and always timely meditation on these same issues, works as well in the early 1960s as it did in the early 1600s, and the soundtrack echoes the never ending discussion of race in relation to jazz music.
If you recall Patrick McGoohan as King Edward I in Braveheart, you know how excellently he can play evil. Here McGoohan, as good an Iago as ever there was, is perfect in the villain role which, as is the case with most of Shakespeare's villains, tends to steal the show, and his quip about all the white jazz musicians holding a convention in a telephone booth provides one of the few funny moments to break the unrelenting tension in this edge-of-your-seat production.
Lanning : )
Super Reviewer
All Night Long Quotes
There are no approved quotes yet for this movie.