All Over the Guy
(2001)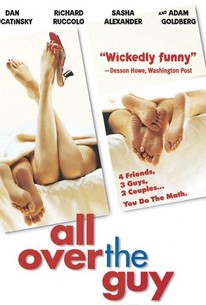 Movie Info
Actor and playwright Dan Bucatinsky wrote the screenplay for this adaptation of his play I Know You Are, But What Am I?, though for the big-screen version, his slightly fractured love story was given a same-sex twist. Eli (Dan Bucatinsky) is a journalist working with a major L.A. newspaper who is single and not loving it. Eli is also gay, and makes no secret of the fact that he's looking for a nice guy that he can settle down with. Eli's best friend Brett (Adam Goldberg) knows a woman named Jackie (Sasha Alexander), who says she has a friend who would be perfect for Eli. Thus Eli is introduced to Tom (Richard Ruccolo), a special education instructor and devoted nightlife enthusiast. Eli and Tom's first date turns out to be just short of a disaster; Tom indulges in his overweening enthusiasm for alcohol and tobacco, and Eli is disgusted to learn Tom has never seen Gone With the Wind. Things appear to be over for Eli and Tom before they even started, until they meet by chance while shopping a few days later; this time, a conversation rather than an argument develops, and the two end up spending the night together. Eli begins to think love may have finally found him, until Tom dashes off the next morning, leaving Eli to wonder if Tom has any interest at all in a long-term commitment. All Over the Guy also features small cameo roles by Lisa Kudrow, as an actress not skilled in voice-over work, and Christina Ricci as Eli's cynical sister.
Critic Reviews for All Over the Guy
Audience Reviews for All Over the Guy
I really liked this movie. Its characters are quirky but believably so, which is rare. Really funny.
Sunil Jawahir
Super Reviewer
This is one of my absolute favorite movies! Love the track "Please Forgive Me" by David Gray.
This film really was not trying to make a statement about homosexuality. It was more about disfunctional upbringings adversely impacting the way we relate to others. I think this is one of the reasons I enjoyed it. In not beating you over the head with "accept me because I am gay" messages and simply seeing the main characters (Eli and Tom) as people trying to work through their own baggage and make life work for themselves it may make it more accessible to some. Why else did I enjoy the movie? It was funny. It had some really funny moments in it. PS, if you are looking for a movie starring Lisa Kudrow and Christina Ricci look elsewhere...their cameo's are brief (and though I love them both Kudrow's performance was great). The acting ranges from good to...well...not so good, but for a decent semi-romantic comedy you have found your evening ticket. Enjoy.
All Over the Guy Quotes
There are no approved quotes yet for this movie.