All-Star Superman
(2011)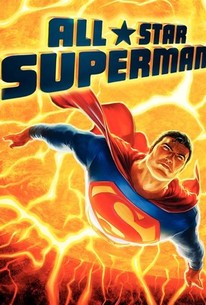 AUDIENCE SCORE
Critic Consensus: No consensus yet.
Movie Info
This animated adventure finds the ultimate superhero Superman succumbing to the clutches of disturbed criminal mastermind Lex Luthor, who has constructed a plan to murder the Man of Steel with solar radiation. Following his exposure to the deadly phenomenon, Superman is sure he only has weeks to live, and lays plans to make good on the many tasks that ahead of him before he expires -- including telling the truth about his secret identity to Lois Lane, and defeating Lex once and for all. But is the hero's fate truly sealed, or can he appeal the fatal sentence and live to fight once more?
Critic Reviews for All-Star Superman
Audience Reviews for All-Star Superman
A Superman story outside of the canon that still uses most of the known elements of the character. It's big and audacious, and they truly throw in everything but the kitchen sink, often so much so as to dilute the intent. Nonetheless, a satisfying outing for Man of Steel fans.
Kevin M. Williams
Super Reviewer
Media seems obsessed with the death of Superman. He had a death in live-action film, Superman Returns, a death in Superman Doomsday and now another death in the animated adaptation of Grant Morrison's All-Star Superman comic book. The animated movie is a different version of the Superman character, much like the comics. The movie starts off with him realizing that he's dying and that Lex Luthor killed him. James Denton's Superman/Clark Kent is possibly the most lovable incarnation second only to Christopher Reeves's live-action portrayal. The loyal script and top notch acting imbues Superman with just the right level of noble superhuman grandeur mixed with a down to earth homely touch. He is the hero, and the farm boy at the same time. Similarly, Clark Kent's oafish demeanor is comedic yet sincere; his interview with Lex Luthor and subsequent escape from the prison riot caused by a supervillian's escape is possibly the most fun part of the entire movie.
Dean McKenna
Super Reviewer
"Doomed planet. Desperate scientists. Last hope. Kindly couple. Superman." Lex Luthor enacts his plan to rid the world of Superman, once and for all. Succeeding with solar radiation poisoning, the Man of Steel is slowly dying. With what little times remains, the Last Son of Krypton must confront the revealing of his secret identity to Lois Lane and face Luthor in a final battle.
REVIEW
I'm torn on All-Star Superman. There's too much going on, there are characters and plot elements which seem to serve no purpose, and despite the epic romanticism of the movie's ultimate destination - which does work on some levels - I did not come away entirely satisfied. And yet, I can't deny that I mostly enjoyed watching it, and that some moments were quite poignant. I'm not knowledgeable enough to judge the art and animation on an objective level, but I quite liked the look of the movie, and I found the voice acting unnoticeable in the best sense, which is to say it was perfectly convincing. The music, too, was good. It's just the plot, really, where All-Star Superman loses points. But then, what's more important to a story than plot? Basically, I'd recommend this for fans, but probably not for the casual viewer. And I have a strong feeling that I would have been better off reading the comics version of this story.
Lorenzo von Matterhorn
Super Reviewer
All-Star Superman Quotes
| | |
| --- | --- |
| Lex Luthor: | "Einstein couldn't connect the gravitational force to the other three but if he could have seen this... it's so obvious, the fundamental forces are yolked by awareness. The mechanistic clockwork hinges on an impossible defiance of entropy; life. And the clockwork doesn't care." "You're embarrassing me beyond therapy." -Leave it to Grant Morrison to explain everything. |
| Lex Luthor: | Einstein couldn't connect the gravitational force to the other three but if he could have seen this... it's so obvious, the fundamental forces are yolked by awareness. The mechanistic clockwork hinges on an impossible defiance of entropy; life. And the clockwork doesn't care. You're embarrassing me beyond therapy. |
| | |
| --- | --- |
| Martha Kent: | forest hills |
| Martha Kent: | Forest hills. |