All That Heaven Allows
(1955)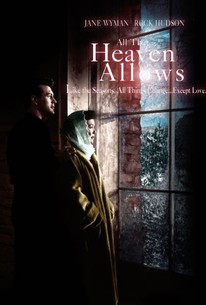 All That Heaven Allows Photos
Movie Info
One of director Douglas Sirk's best and most successful romantic soapers of the 1950s, All That Heaven Allows is predicated on a May-December romance. The difference here is that the woman, attractive widow Cary Scott (Jane Wyman), is considerably older than the man, handsome gardener-landscaper Ron Kirby (Rock Hudson). Sirk builds up sympathy for Cary by showing how empty her life has been since her husband's death, even suggesting that the marriage itself was no picnic. Throwing conventionial behavior to the winds and facing social ostracism, Cary pursues her romance with Ron, who is unjustly perceived as a fortune-hunter by Cary's friends and family--especially her priggish son Ned (William Reynolds). Amusingly, Conrad Nagel was to have had a much larger part as Harvey, an elderly widower who carries a torch for Cary, but his role was trimmed down during previews when audiences disapproved of an implicit romance between a sixtyish man and a fortysomething woman! All That Heaven Allows was remade by unabashed Douglas Sirk admirer Rainer Werner Fassbinder as Ali--Fear Eats the Soul (1974), in which the age gap between hero and heroine was even wider. ~ Hal Erickson, Rovi
Critic Reviews for All That Heaven Allows
Audience Reviews for All That Heaven Allows
Despite the fact that the two characters seem to fall in love in such an abrupt way, this is still an involving silky melodrama whose appeal is not hard to understand, especially taking into account the impressive social criticism that made it so ahead of its time.
Carlos Magalhães
Super Reviewer
I don't quite know how to describe this. I watched it expecting nothing great and I still feel quite confused as to my feelings on it but I really enjoyed it. It was interesting and understandable (not always common in 'old' movies) and it touches on themes I can completely understand despite the age gap. I feel I may have liked it better at Christmas time, as the beautiful images of a snow covered cottage with a young deer outside was magical. I truly felt for Cary, as her whole world changed and ended up feeling satisfied at the end. A good romance.
Sophie Burgess
Super Reviewer
Some people never realize how society, traditions and values imprisons and forces them to conform with banality. A candid and romantic look of a taboo relationship, done with such picturesque beauty that is hard not to be moved and enchanted by it.
Pierluigi Puccini
Super Reviewer
All That Heaven Allows Quotes
There are no approved quotes yet for this movie.