All That Jazz
(1979)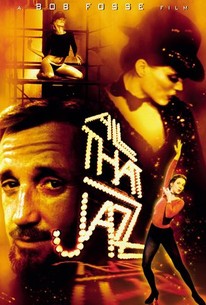 TOMATOMETER
AUDIENCE SCORE
Critic Consensus: Director Bob Fosse and star Roy Scheider are at the top of their games in this dazzling, self-aware stage drama about a death-obsessed director-choreographer.
Movie Info
"It's showtime!" In this part film à clef, part musical phantasmagoria, director/choreographer Bob Fosse takes a Felliniesque look at the life of a driven entertainer. Joe Gideon (Roy Scheider, channeling Fosse) is the ultimate work (and pleasure)-aholic, as he knocks back a daily dose of amphetamines to juggle a new Broadway production while editing his new movie, not to mention ex-wife Audrey (Leland Palmer), steady girlfriend Kate (Ann Reinking), a young daughter, and various conquests. Joe cannot, however, avoid intimations of mortality from white-clad vision Angelique (Jessica Lange) that lead him to look back at his life as he heads for a near-inevitable coronary and his departure from this mortal coil with the appropriate razzle-dazzle. Taking his cue from Federico Fellini's 8 1/2 (1963), Fosse moves from realistic dance numbers to extravagant flights of cinematic fancy, as Joe meditates on his life, his women, and his death. Following a similarly dark revisionist vein as Martin Scorsese's New York, New York (1977), Fosse shows the stiff price that entertaining exacts on entertainers (among other things, he intercuts graphic footage of open-heart surgery with a song and dance), mercilessly reversing the feel-good mood of classical movie musicals. Critics praised Fosse's daring even as they damned his self-indulgence, while Scheider was lauded for giving the best performance of his career. Though not a disastrous failure, All That Jazz came nowhere near the popularity of 1978's Grease, as late '70s audiences increasingly turned away from "difficult" movies. For all its excesses, Fosse's fiercely personal approach turned All That Jazz into another striking work from one of the few directors able to make, and experiment with, movie musicals after the 1960s.
News & Interviews for All That Jazz
Critic Reviews for All That Jazz
Audience Reviews for All That Jazz
One of the best films I ever watched in my life.
Lucas Martins
Super Reviewer
½
Decent depiction of the toll the daily grind of putting together a new show takes on a director, and the tension between the drive to produce original art and the knowledge that your time has to end eventually. Spacey dream sequences, entertaining dance numbers and the spectre of mortality keep you watching... at least until the bizarre, excessive finale. A rather "out there" film, and one that's more of a "should see" than a "want to see," it's a sharp piece of art but it's probably not for everyone.
Daniel Perry
Super Reviewer
Imagine a vain dancer admiring himself while moving between two mirrors and you've an idea of this work, only that dancer is Bob Fosse, a reality show all by his lonesome, in love with hating himself for loving himself too much, endless reflections stretching to an infinity. Wildly creative and passionate about dance, this is must see for every admirer of musical comedy.
Kevin M. Williams
Super Reviewer
All That Jazz Quotes
| | |
| --- | --- |
| Joe Gideon: | It's showtime folks! |
| | |
| --- | --- |
| Joe Gideon: | How dare you use my phone to call someone who's not gay! |
| | |
| --- | --- |
| Joe Gideon: | Don't bullshit the bullshitter |
| Joe Gideon: | Don't bullshit the bullshitter. |
| | |
| --- | --- |
| Joe Gideon: | It's showtime! |