All the President's Men
(1976)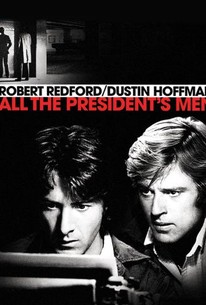 TOMATOMETER
AUDIENCE SCORE
Critic Consensus: A taut, solidly acted paean to the benefits of a free press and the dangers of unchecked power, made all the more effective by its origins in real-life events.
All the President's Men Photos
Movie Info
A reconstruction of the discovery of the White House link with the Watergate affair by two young reporters from the Washington Post.
News & Interviews for All the President's Men
Critic Reviews for All the President's Men
Audience Reviews for All the President's Men
½
Pakula creates a remarkably absorbing drama that moves without hurry, following each step of a real-life journalistic investigation that should remind us of the absolute importance of a free press in democratic countries where powerful people still believe they can rise above the law.
Carlos Magalhães
Super Reviewer
A bonafide hit the political thriller "All The President's Men" garnered a total of Eight Oscar nominations including Best Picture and won Four including Best Supporting Actor, Best Adapted Screenplay, Best Sound and Art Direction.
Mister Caple
Super Reviewer
"The most devastating detective story of this century." Reporters Woodward and Bernstein uncover the details of the Watergate scandal that leads to President Nixon's resignation.
REVIEW
Alan J. Pakula's seminal political thriller which relates the scandalous Watergate affair from the relentless investigation two journalists Woodward (Robert Redford) and Bernstein (Dustin Hoffman) undertook. They had flair, used their reasoning and deduction faculties in a stalwart way without giving in too much to discouragement to reconstitute with tenacity and accuracy this scandal which will lead to the resignation of Nixon. All this throughout countless phone calls, conversations with witnesses who were however often reluctant to talk, intensive researches. More than half of the movie occurs in the editorial office and not only has Pakula a sense of space to make this place bright but also to captivate the viewer's attention while the two journalists pore over their research and discoveries. Technically speaking, his film commands admiration and respect: helped by the topnotch work of his DP Gordon Willis, his camera work shines throughout the work which is also scattered by first-class sequences. The very last one of course and one of my favorites is the following one: when Hoffman goes to Redford's apartment to inform him of his new discoveries, the latter turns up the music very loud, then he begins to type on the typewriter and incites his companion to communicate through this scheme because there are mikes in the room. An ingenious way to eschew one trap their enemies set. Because all the ones who were involved in this affair try to hush it up. An affair painstakingly reconstituted as well as a documentary about the American press's work methods, a faultless directing, a visual, technical splendor and a topflight performance, what more could you ask for from a cracker that can stand (or rather) encourages multiple viewings?
Lorenzo von Matterhorn
Super Reviewer
All the President's Men Quotes
| | |
| --- | --- |
| Deep Throat: | Get out your notebook, there's more. Your lives are in danger. |
| | |
| --- | --- |
| Deep Throat: | The list is longer than anyone can imagine. It involves the entire US intelligence community. FBI, CIA, Justice, it's incredible. |
| | |
| --- | --- |
| Bob Woodward: | Listen I'm tired of your chicken shit games! I don't want hints, I need to know what you know. |
| | |
| --- | --- |
| Deep Throat: | Follow the money. |