All Things To All Men
(2013)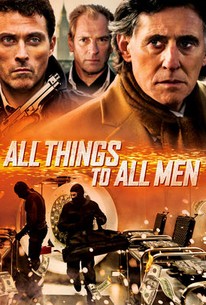 All Things To All Men Photos
Movie Info
George Isaac's crime thriller All Things to All Men stars Rufus Sewell as a police detective so obsessed with toppling a crime kingpin (played by Gabriel Byrne) that he is willing to leave ethics and the law aside in order to succeed.
Critic Reviews for All Things To All Men
Audience Reviews for All Things To All Men
All Things to All Men is a British film written and directed by George Isaac. The version of the film I watched is the one released theatrically in early 2013 with a running time of 85 minutes , while the new version was retitled The Deadly Game when released on DVD and Blu-Ray recently and runs for almost 98 minutes. In his directorial debut, George Isaac delivers a stylish London-noir thriller with interesting cast (maybe not my first choice) which at the end delivers enough to enjoy the fast paced story. I enjoyed Rufus Sewel (except the moments when sometimes simply I could not understand what was he saying) and Gabriel Byrne but Toby Stephens was somehow too "dry". Other cast included Leo Gregory, Elsa Pataky (Fast & Furious), Leo Gregory (Stoned), Julian Sands (The Girl With The Dragon Tattoo), James Frain (Tron), Ralph Brown (Withnail & I) and MC Harvey. [img]http://www.impawards.com/intl/uk/2013/posters/all_things_to_all_men.jpg[/img] The story is very well developed but the approach to the characters is sometimes not very personal to fully feel those characters. The battle for supremacy between two men on opposite sides of the law is actually a battle of criminals but one of them has a badge. His name is Parker (Rufus Sewell) and he is a head of a maverick police unit who will stop at nothing to end the reign of London crime lord Corso (Gabriel Byrne). Unexpected event has a new player on the scene - Riley (Toby Stephens), a professional thief, who is unwittingly drawn into Parker's plans. At that point the line between crime and the law becomes blurred beyond recognition... like in real life, I suppose! The movie was shot entirely on location in London from an original script by George Isaac, and it has almost touristy shots of this city which will impress most of the viewers. If you like dark atmosphere crime thrillers, maybe it is time to check this one.
All Things To All Men Quotes
There are no approved quotes yet for this movie.