Almost a Woman
(2006)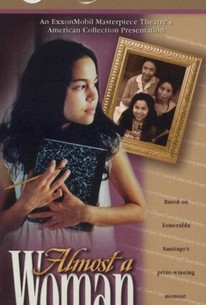 AUDIENCE SCORE
Critic Consensus: No consensus yet.
Movie Info
Based on the 1999 memoir by Esmerelda Santiago (the sequel to her earlier When I Was Puerto Rican), Almost a Woman begins in 1961, when the Santiago family -- single mom, six children, and formidable grandmother -- moves from Puerto Rico to a tiny apartment in New York. Determined to make a better life for her kids than might have been possible in the "old country," Mami Santiago (Wanda de Jesus) makes every conceivable sacrifice, and in the process loses two husbands. But the effort and heartbreak ultimately bear fruit when her daughter Esmerelda (Ana Maria Lagasca) enrolls in Manhattan's High School of the Performing Arts. Almost a Woman made its first TV appearance as a presentation of PBS' Masterpiece Theater American Collection.
Audience Reviews for Almost a Woman
A tender, sweet coming of age story, based on the memoir of Esmerelda Santiago, about a young girl transplanted from Puerto Rico to New York in the early sixties. Newcomer Ana Maria Lagasca shines as the young woman trying to honor her hard working mother and her PR culture while attending the NY High School for the Performing Arts and its high demands. Her family may be poor, but they are proud. They may struggle to learn English and American ways, but they are hard working and upwardly mobile. The family may be quite large, even enormous by our standards, but that only means there is more love to go around. This was inspiring and heart-warming and just plain entertaining. Produced for PBS, the production values are top-notch. It refrains from showing us the grittier side of working in sweat shops and applying for public assistance, but there are hints of that darker side, if one looks. This viewer enjoyed it for what it was, one woman's recollection of what it was like to feel suspended between two incompatible cultures and finding her way.
Mark Abell
Super Reviewer
Almost a Woman Quotes
There are no approved quotes yet for this movie.