Alone in the Dark
(2005)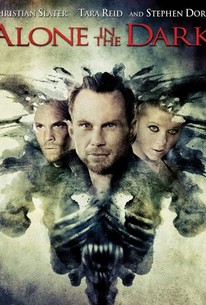 TOMATOMETER
AUDIENCE SCORE
Critic Consensus: Inept on almost every level, Alone in the Dark may not work as a thriller, but it's good for some head-slapping, incredulous laughter.
Movie Info
Edward Carnby is a private investigator specializing in unexplainable supernatural phenomena. His cases delve into the dark corners of the world, searching for truth in the occult remnants of ancient civilizations. Now, the greatest mystery of his past is about to become the most dangerous case he has ever faced. With the help of his ex-flame, archeologist Aline Cedrac, and his bitter rival, government agent Richard Burke, Edward Carnby is about to learn that just because you don't believe in something, that doesn't mean it can't kill you.
News & Interviews for Alone in the Dark
Critic Reviews for Alone in the Dark
Audience Reviews for Alone in the Dark
A godawful, incomprehensible schlock that can't make itself understood even with that endless, gigantic text crawl that opens it, and I don't believe no one realized that Tara Reid can't convince as someone who would open the door of a museum, let alone be an archaeologist.
Carlos Magalhães
Super Reviewer
[img]http://images.rottentomatoes.com/images/user/icons/icon13.gif[/img]
Directors Cat
Super Reviewer
Alone in the Dark is Uwe Boll's worst, if that's even possible. Alone in the Dark is very bad, with bad acting, story and directing. The film stumbles around trying to find a purpose, but it never elevates to anything remotely good or creative. Action scenes are sloppy, too noisy and not well done. Equally bad is Tara Reid. This is a film that fails to hit the mark on so many levels, it's not even possible to salvage even if you'd remove all the crap scenes with Tara Reid. Alone in the Dark is a misguided attempt at creating an action Horror film, and it fails. This is one film that just doesn't deliver. You end up wondering why this film wasf8inanced in the first place and you're astounded at how Boll could pull something like this off. Alone in the Dark is the prime example as to why Video game to screen adaptations are horrible ideas for films, and they rarely work. Alone in the Dark is a poorly made film and you realize that Uwe Boll doesn't care about directing a good film that he's only in the business for the money. His films sell, so there's no reason for him to direct a good film, although he's managed to make three good flick s out of the fifteen or so he's made. This might have been an interesting idea for a film if it would have been handled properly. There were signs of potential, but it quickly became apparent that it was a pure joke fest. Everything that might have been interesting is wasted from the poorly conceived script, which feels rushed, with no heart put into its story to the washed up actors; this film was set to fail right before the cameras were set to roll. Avoid this horror flick, as it a mess from start to finish, and there's nothing good to come out of it aside from the heavy metal soundtrack.
Alone in the Dark Quotes
| | |
| --- | --- |
| Edward Carnby: | My name is Edward Carnby, and I'm here to protect you from the things you don't believe. |
| | |
| --- | --- |
| Aline Cedrac: | (Slaps Edward) I thought you were dead, *sshole! |
| Aline Cedrac: | [slaps Edward] I thought you were dead, *sshole! |
| | |
| --- | --- |
| Aline Cedrac: | Some doors are meant to stay shut. |
| | |
| --- | --- |
| Aline Cedrac: | (Points to Native American text on a cave wall) It's a warning! It says, "Once you make it down here alive, you're already dead." |
| Aline Cedrac: | [points to Native American text on a cave wall] It's a warning! It says, 'Once you make it down here alive, you're already dead.' |