Along Came a Spider
(2001)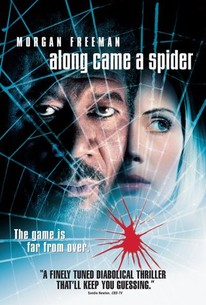 Along Came a Spider Videos
Along Came a Spider Photos
Movie Info
Morgan Freeman returns as forensic psychologist Dr. Alex Cross in this thriller based on the novel by James Patterson (whose work also formed the basis of the hit Kiss the Girls). Gary Soneji (Michael Wincott) is a brilliant but remorseless psychopath who has landed a teaching position at an exclusive private school in Washington, D.C. Using his extensive knowledge of kidnapping (he's taught a class on Charles Lindbergh), Soneji abducts one of his students - Megan (Mika Boorem), whose father Hank Rose (Michael Moriarty) is a United States senator. Ollie MacArthur (Dylan Baker), the detective investigating the case, has strong words for Jezzie Flannigan (Monica Potter), the Secret Service agent who mistakenly let Megan slip through her fingers. But when the kidnapper contacts Dr. Cross, the psychologist is brought in on the case, and Cross seeks out Flannigan, who he believes might have a valuable insight into the case. Soon, Cross and Flannigan come to the terrible realization that this crime only represents the tip of the iceberg for the ruthless Soneji. Along Came a Spider also features Penelope Ann Miller, Jay O. Sanders, and Kim Hawthorne. ~ Mark Deming, Rovi
News & Interviews for Along Came a Spider
Critic Reviews for Along Came a Spider
Audience Reviews for Along Came a Spider
½
Alex: To be brutally honest, I think you have a morbid desire to burn in hell. "The game is far from over." Overall, Along Came a Spider is a average mystery thriller at best. The film is twisty, but not smart twisty; just twisty. Twists are something that, if used intelligently can add a lot to a film. They also can make decent movies bad, and bad movies unbearable. In Along Came a Spider's case; the twists didn't really elevate the movie, nor did they take away from it. If anything the lackluster twists fit in really well with everything else that was taking place.  This follows a detective named Alex Cross, who gets a phone call from a man who just kidnapped a senators daughter. The kidnapper posed as a teacher at a prep school and snatched the girl one day, while the secret service was just late in catching him. A secret service member who worked at the school becomes Cross's partner as they try to piece together the kidnapper's motives and also where the girl is.  There's no way to describe this movie other then saying it is a generic detective mystery. There's nothing new and exciting, but it is a decent time filler. The movie runs pretty smoothly and time passes at a good pace, but there's a lot missing to make this a truly good film. Morgan Freeman is good as Cross and does help the movie flow a lot better, though. In the end, I would disregard saying whether to watch this one or not. If you have nothing better to do on a boring afternoon and come across it, it's worth a look. If you never come across it, you also won't be missing much. It's not a must see, but if you do, you also won't be overly angered that this was how you spent your 100 minutes.
Melvin White
Super Reviewer
½
Good thriller with a good cast. A congressman's daughter is kidnapped for ransom. A forensic psychologist seeks out the kidnapper and girl. Interesting twist at the end.
Candy Rose
Super Reviewer
Good acting from Freeman and Yelchin but that's pretty much the only good thing in this! Badly thought out film with a horribly predictive plot. Potter's performance was absolutely awful. Ending was plain and I did get the feeling that I was watching a sequel which I now know was part of a book series. I don't know if the book was as bad as this but if it was, the producer needs to be fired.
Sophie Burgess
Super Reviewer
Along Came a Spider Quotes
| | |
| --- | --- |
| Alex Cross: | You do what you are, Jezzie. |
| Jezzie Flannigan: | You mean you are what you do? |
| Alex Cross: | No, I mean you do what you are. Everyone's born with a gift, and what you do with it depends on you. |
| Jezzie Flannigan: | And what if yo betray your gift? |
| Alex Cross: | Then you betray yourself. It's a sad thing |
| Alex Cross: | Then you betray yourself. It's a sad thing. |