Alpha and Omega
(2010)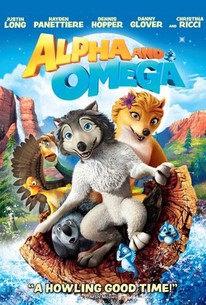 Movie Info
Two mismatched wolves embark on a cross-country quest to get back home and restore peace in their pack after being relocated thousands of miles away by well-meaning park rangers. Quick-witted Humphrey (voice of Justin Long) likes to frolic with friends and play video games with squirrels; disciplined Kate (voice of Hayden Panettiere) likes to call the shots and hunt caribou. Normally, an omega wolf like Humphrey would never stand a chance with an alpha wolf like Kate, but when they're both transported halfway across the country they must work together to get back to their natural habitat. And it won't be easy either, because the one thing Humphrey and Kate can agree on is that they don't have anything in common. Perhaps by working together toward a common goal, however, the two contentious traveling companions will finally realize that even lone wolves can use a helping paw every once in a while. Christina Ricci, Danny Glover, Dennis Hopper, and Larry Miller also supply voices for the Crest Animation production, helmed by Anthony Bell and Ben Gluck from a script by Chris Denk. ~ Jason Buchanan, Rovi
News & Interviews for Alpha and Omega
Critic Reviews for Alpha and Omega
Audience Reviews for Alpha and Omega
Possibly the worst kids animated film I've seen for along long time. The visuals in this film are extremely basic and I'm not sure if that's on purpose or not...surely it can't be!!. It all looks so poor and much like a Saturday morning cartoon with shoddy animation, bad lip sync (or none), rubbish cliched characters and a hugely unoriginal plot. Voice casting involves one or two big names but I doubt they realised what a bottom of the barrel film this would be as we all know animated films these days are hot stuff...apart from this. Shame for Dennis Hopper as I think this was his last project. The whole film stinks badly from start to finish with some terribly bad sequences that are shamefully poor and embarrassing even for younger viewers. They must know a good animated film when they see it these days.
Phil Hubbs
Super Reviewer
I could see this having a bad rating, animated film seem to go down the pan, well this one did.
Scott Green
Super Reviewer
Justin Long is an ok voice actor, he did better in this then he did in Planet 51, which I personally disliked. The reason i'm giving Alpha and Omega an extremely positive review is quite simply because of the film's humour, it's un-boring interpretation on animated romance and its way of focusing on more than one central character. There is no main characetr in Alpha and Omega everyone is important to the film and I truly love the colours of this film. Alpha and Omega is a well made animated family film and is also a personal memorable favorite of mine.
Directors Cat
Super Reviewer
Alpha and Omega Quotes
| | |
| --- | --- |
| Tony: | What did you do to my son Winston! |
| Winston: | An alpha and omega... an omega and an alpha... I don't know... Eve? *Eve starts to stand up then faints* |
| Winston: | An alpha and omega... an omega and an alpha... I don't know... Eve? [Eve starts to stand up then faints] |
| | |
| --- | --- |
| Eve: | I just want to say one thing, if any of you wolves have hurt my daughter I will personally rip out your eyes and shove them down your throat so you can see my claws TEAR YOUR CARCASS OPEN! |
| Lilly: | Mom? |
| Eve: | Not now dear, mommy's in a rage |
| Eve: | Not now dear, mommy's in a rage. |