Alpha Dog
(2007)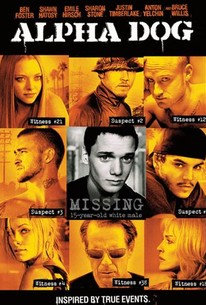 TOMATOMETER
AUDIENCE SCORE
Critic Consensus: A glossy yet unflinching portrait of violent, hedonistic teenagers. Bruce Willis and Sharon Stone chew the scenery, while Justin Timberlake gives a noteworthy performance.
Movie Info
Frankie is a Los Angeles drug dealer. He comes from a good family, owns his home, several cars and enjoys partying with his friends. Frankie is 19. When his friend Jake welches on a debt, Frankie and his boys kidnap Jake's 15-year-old brother Butch and hold him as a marker. Even though Butch has numerous chances to escape, he doesn't. He's enjoying partying with them, losing his virginity and having a good time -- until something goes horribly wrong.
Critic Reviews for Alpha Dog
Audience Reviews for Alpha Dog
[img]http://images.rottentomatoes.com/images/user/icons/icon14.gif[/img]
Directors Cat
Super Reviewer
Based on a true story, this is a movie about a feud between a couple of thuggish young punk dopers that escalates into dangerous territory with tragic results when kidnapping and violence enter the picture. Johnny Truelove is a flashy pot dealer who hates when people owe him money. When the volatile Jake Mazursky owes him such a debt, but double crosses him, Johnny and his cohorts resort to kidnapping Jake's little brother as collateral. Things get interesting when the kid, Zack, who has many chances to escape, decides that he's okay with the situation, and wants to stay. He actually starts to get friendly with Johnny's right hand man Frankie who acts as the kid's handler. But unfortunately, things don't end up so wonderful when the situation becomes hard to contain, and Johnny doesn't know how to deal with it all. The film courted controversy since it was based on an actual story, and that case was still sorta going on when the film was being made. And apparently writer/director Nick Cassavetes also had insider access to a lot of information to use in his fictionalization of things. At first, I wasn't sure if I was gonna like this movie. Hardly any of the characters are likable, and most are absolutely awful people with few, if any redeeming qualities. I stuck with it though, since sometimes, situations that go from bad to worse are actually more interesting when you don't feel bad for anybody, and you get to see them get what they deserve. Granted, that also makes for a tough viewing experience, but thankfully, some of them do come around and I started to connect with them a little bit. The story mostly plays out as a typical film, but is peppered with documentary style interview bits, kind of like an investigative journalism piece. I'm not against this type of storytelling, but maybe it would have been better had they just kept it like a regular movie. Or just went totally all out, and present the non-interview parts as like flashbacks or something. Even though this is a rough movie about despicable people, I still kinda liked it. It does kinda drag on a bit at the end, but until then is pretty well paced. I think that having the characters be stupid, ineffectual, and panicky adds a nice spin to a familiar type of story, but it also makes things more wrenching since it's based on actual events. I think if I had a personal connection to this story I may not be able to enjoy, or even endure such a thing. Even though the characters are vile, that's just the way they're supposed to be. The star studded cast do a pretty terrific job here. In smaller supporting roles we get veterans like Harry Dean Stanton, Bruce Willis, and Sharon Stone, and they do okay, but the film is practically carried by the youngsters. Emile Hirsch is fine as Johhny, Ben Foster is positively unhinged as Jake, and Anton Yelchin is pretty solid as Zack. As Frankie, Justin Timberlake is surprisingly strong. He (and some of the others) come off as trying to act black a bit too much, and it's a tad annoying, but other than that, he proves he's got chops, and I can see why he went on to make some more movies after this. We also get a host of lovely ladies including Olivia Wilde, Amanda Seyfried, Amber Heard, and Dominique Swain among others. All in all, this film is okay. It's a bit of a mess at times, but it's still rather compelling and engaging, despite the messed up scenario and wretched characters. I'm torn on the specific rating, so let's split it between 3 and 3.5. Though I'm giving it a milder recommendation, I think you should still give it a look.
Chris Weber
Super Reviewer
½
Disturbing and powerful film. Surprisingly strong performance by Justin Timberlake and Yalchin.
Christian C
Super Reviewer
Alpha Dog Quotes
| | |
| --- | --- |
| Jake Mazursky: | This is just the beginning, bitch. This is lil shooter. You're dead, homes. You hear me, you fucking dwarf! I know where your mother lives I know where your brother lives, I know where your papi lives! You wanna play some games motherfucker! |
| | |
| --- | --- |
| Johnny Truelove: | You ever have that dream: the one where you did something... You don't know why, but you can never go back? |
| | |
| --- | --- |
| Angela Holden: | So you're like... ransom. |
| Zack Mazursky: | It's ok. Its like another story to tell my grandchildren |