Already Tomorrow In Hong Kong
(2016)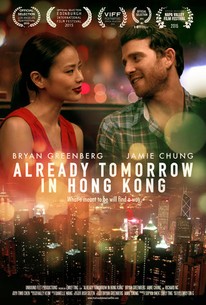 TOMATOMETER
AUDIENCE SCORE
Critic Consensus: With Already Tomorrow in Hong Kong, writer-director Emily Ting adds a modest yet enjoyable entry to the expatriate rom-com subgenre.
Already Tomorrow In Hong Kong Photos
Movie Info
In this sparkling romance, Ruby (Jamie Chung), a Chinese American toy designer from LA, visits Hong Kong for the first time on business. Finding herself stranded, she meets Josh (Bryan Greenberg), an American expat who shows her the city. Meandering through nighttime streets pulsing with energy and possibility, they fall into a winding and carefree conversation, buoyed by an undeniable attraction. As effervescent as a perfect first date, Emily Ting's charming directorial debut takes full advantage of the chemistry of its leads, the playfulness of their exchanges, and the magical landscape that is Hong Kong at night. IT'S ALREADY TOMORROW IN HONG KONG is written and directed by Emily Ting and produced by Ting and Sophia Shek.
News & Interviews for Already Tomorrow In Hong Kong
Critic Reviews for Already Tomorrow In Hong Kong
Audience Reviews for Already Tomorrow In Hong Kong
½
I will admit, I am be a sucker for a great romance flick, especially when it is impeccably cast and extremely well-written. While Already Tomorrow in Hong Kong is both of these things, I found myself wanting more throughout the entire film. Following two strangers as they meet in Hong Kong one night, they spend the night walking around the city together, only to have a conflict and bid farewell to one another. One year later, they happen to cross paths once again. Talking about their lives and struggles, they spend another night on the town together to see if they really are right for each other. The premise of this film is right up my alley, but there just isn't enough substance to carry a full film in my opinion. While it is very reminiscent of Richard Linklater's Before Sunrise, Before Sunset, and Before Midnight, I went in with an open mind, hoping that there would be enough differences that set it apart; However, it is eerily similar. Meeting up years later to see if they will fall in love, all while the film takes place throughout one day is pretty much a rip-off, but the characters are completely different. For that reason, it felt more like an homage than a rip-off, which I was able to respect. This was due to the fact that Jamie Chung and Bryan Greenberg shared some pretty great chemistry, but is a film great just on chemistry alone? When a film solely relies on the cast alone to drive the film, it is without question that the two most important aspects of pre-production is in the casting and scripting departments. Yes, this is a very small, independent picture, but there just was not enough substance for me this time. Sure, in Linklater's Before trilogy, audiences follow two people walking through the streets, but the dialogue is much deeper and more though-provoking, while still feeling like real people. Which this dialogue felt real, it was not though-provoking enough to really emote the things it wanted to. By the end of the film, I was left a little short-changed. While I am all for open endings, there should always be some sense of closure to your story. To me, endings that are left to the audiences interpretations are the best, but when you have confused characters who really haven't made up their minds when your film concludes, it can be quite jarring. This is not a spoiler for the film, because there really is nothing to spoil about this film. It is a film about two people who meet, fall apart, meet again, and you never really know what happens. Sure, it is left up to your interpretation, but it felt unfinished in my eyes. In the end, I still felt like I was spending the night with these characters in reality, due to the chemistry shared between these two leads. Although I do think the film could have used another 10-20 minutes (due to the fact that it is only a mere 78 minutes long), I felt like it did its job nicely, creating a sweet, simple story that can be viewed by many as a throwaway film that they may not quite forget. It has enough memorable scenes and leaves you thinking by the time the credits scroll. I see exactly what the filmmakers were going for here, and for that, it is a harmless film overall. I enjoyed myself quite a bit while watching this film, I just felt like it needed a little more substance.
Already Tomorrow In Hong Kong Quotes
There are no approved quotes yet for this movie.