Always
(1989)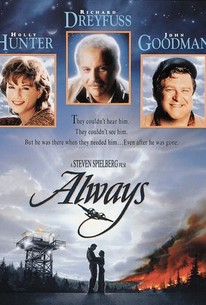 Movie Info
For all its state-of-the-art special effects, Always is essentially a remake of the 1943 Spencer Tracy-Irene Dunne fantasy vehicle A Guy Named Joe--minus the wartime context. Richard Dreyfuss stars as a reckless fire-fighting pilot who is killed in what was to have been his final mission. Ascending to Heaven, Dreyfuss is introduced to businesslike angel Audrey Hepburn (playing the equivalent of the Lionel Barrymore role in A Guy Named Joe). Hepburn instructs the spectral Dreyfuss to pass on his aviation knowhow to his young successor, Brad Johnson. Our ghostly hero also smoothes the course of romance for his earthly girl friend Holly Hunter, who after several months' worth of grieving has fallen in love with Johnson. John Goodman injects a dose of comedy relief as Dreyfuss' faithful buddy.
Critic Reviews for Always
Audience Reviews for Always
½
Spielberg's remake of "A Guy Named Joe" unfortunately feels just like a remake, many of the earliest scenes easily telegraphing what is to come as predictably as ... well, as just about any old movie. With that in mind the cast doesn't do too badly, it simply feels like an also ran. It looks like one of Audrey Hepburn's last roles. She plays an angel. Coincidence?
Kevin M. Williams
Super Reviewer
Undeservedly somewhat forgotten Spielberg film that still has many wonders to offer, telling a great love story from beyond the grave. The great director's trademarks are there. Hints of the adventure film, great cinematography and just this certain feeling 1980s films can give you, maybe for the last time in a Spielberg film right here. Maybe a tad sappy at times, but with quite a few really memorable and touching scenes.
This is Spielberg at his most Capra-esque. This is perhaps Spielberg's least well known feature, but that is, perhaps, because it's unfortunately not all that memorable. As far as story goes, it is, in broad terms, Ghost a year before it came out. An aerial firefighter dies saving his best friend, but has to help his friends and lover move on before he can cross over. Very sentimental fantasy type stuff, but it is Spielberg, after all. The film is a bit too long, and the script could be more compelling, but I actually liked this film (for the most part), which is why it's close to a pass, even if it doesn't quite earn it. Maybe I'm being kind because perhaps Spielberg was just in a rut between a good film (Empire of the Sun) and a great one (Indiana Jones and the Last Crusade). The film has okay music (though it doesn't really stand out), a decent cast with good performances, and some pretty good work where the special effects, cinematography, and execution of the aerial stuff is concerned. This film is notable for being Audrey Hepburn's last screen appearance, and, while it is nice to see her, she deserved to go out in something a tad better. This is lesser Spielberg, but it still has it's merits. Maybe you should be like me and give it a chance. Maybe this film isn't all that bad, but just needs a little love.
Chris Weber
Super Reviewer
Always Quotes
There are no approved quotes yet for this movie.