Always Outnumbered
(1998)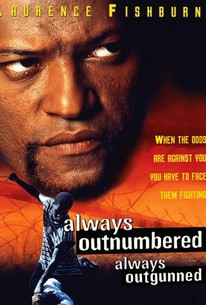 AUDIENCE SCORE
Critic Consensus: No consensus yet.
Movie Info
In this TV movie, ex-con Socrates returns to L.A. looking for work. There he meets youngster Darryl and romances cafe-owner Lula. Socrates brings life into the neighborhood.
Critic Reviews for Always Outnumbered
All Critics (2) | Top Critics (2) | Fresh (2) | Rotten (0)
HBO came through with ''Always Outnumbered,'' which featured a coolly graceful performance by Laurence Fishburne as a heroic ex-convict.
Fishburne stands up well under the weight of all this symbolism. He is abetted in his dialogue with corrupted Platonic ideals by a crafty Cobbs, an exasperated Cole, a super-respectable Tyson, and Bill Nunn and Laurie Metcalf.
Audience Reviews for Always Outnumbered
Oh this is an impossible film for me to review. It's based on one of my favouritest books, "Always Outnumbered, Always Outgunned" by Walter Mosley and I like it so much, I can't view this film impartially at all. I might be recommending a made-for-tv-movie clunker here, I honestly can't tell, I'm just so pleased they put the big man up on the big screen... look, it's brilliant! Laurence Fishburne nails the role! Watch this film!! Sigh, ok, try to be impartial for one minute.... Always Outnumbered is a series of short stories (or one story with lots of bits to it) about fifty something ex-con Socrates Fortlow and the people he knows. Even though he doesn't wear a shiny costume and he can't fly, Socrates is a hero, though he'd not thank you for describing him like that, he's just trying to get by as best he can .... nope, I give up. Just read the book, ok? Or see the film. Or either. Or both! Watch it! It's brilliant!! etc etc
Always Outnumbered Quotes