Amal
(2008)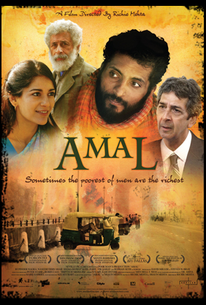 Movie Info
When a destitute New Delhi rickshaw driver generously allows his eccentric passenger to dodge his fare, the generous act sends his fate careening in a wholly unanticipated direction in first time filmmaker Richie Mehta's heartfelt portrait of early-21st Century India. Amal (Rupinder Nagra) drives a motorized rickshaw on the crowded streets of New Delhi. One day, while spiriting a beautiful fare to her destination, the passenger's purse is snatched by a pint-sized cutpurse. Determined to rescue the woman's valuables, Amal gives chase to the little girl, who is stricken by a car after ducking into traffic. While Amal dutifully rushes the girl to the hospital and agrees to pay her medical bills, he realizes that he cannot afford the expense. But there is hope for both Amal and the injured young thief, because the fare that the rickshaw driver allowed to walk free was in fact an eccentric millionaire named G.K. Jayaram (Naseeruddin Shah). At the time Amal picked G.K. up, the ageing family patriarch was growing increasingly perturbed with his grasping children - all of whom seemed to hear a cash register ringing when their father fell ill. In one final act of anonymous generosity, G.K. bestowed Amal his entire fortune. But the executor of G.K.'s estate has only thirty days to find one common rickshaw driver in a bustling city of 14 million, otherwise the money reverts back to the millionaire's rightful family. While it's plain to see who would benefit from the money the most, the prospect of the estate executer actually locating Amal is growing slimmer with each passing day and G.K.'s greedy family is willing to get downright vicious in order to claim the inheritance as their own.
Audience Reviews for Amal
A hidden gem. Amal is a fairy tale of the working poor in India that concludes with a moral of true happiness.
John Ballantine
Super Reviewer
Amal Quotes
There are no approved quotes yet for this movie.