Amateur
(1995)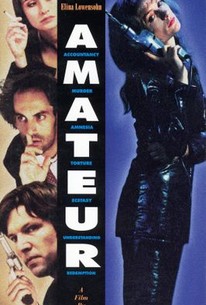 Movie Info
Hal Hartley's fourth feature is a significant break from the quirky romantic comedy territory of his previous work -- though all of the deadpan idiosyncracies which make him such a singular filmmaker remain intact, here he tries his hand at the thriller genre, a move yielding typically unconventional and innovative results. Amateur stars Hartley mainstay Martin Donovan as Thomas, an amnesiac who, in the first scenes, wakes up in an alley, badly injured; he stumbles to a nearby coffeeshop where he meets Isabelle (Isabelle Huppert), a former nun and would-be nymphomaniac who now makes her living writing pornographic fiction. She takes him back to her apartment, where in time his past slowly begins to emerge -- a sharp contrast to the sweet, even naive soul that Huppert has befriended, it appears that the old Thomas was in fact a vicious pornographer whose attempted murder was at the hands of his wife, adult film star wife Sofia (Elina Lowensohn). Thomas is also the target of a nefarious European arms merchant whose hired guns are hot on his trail. ~ Jason Ankeny, Rovi
Critic Reviews for Amateur
Audience Reviews for Amateur
All time favourite of mine. Can't believe this movie is 20 years old now. As always watching this, I find Elina Lowensohn compelling. What an underrated actress she was. Pity she seems to be not acting anymore. Typical great Hal Hartley film. He really made some classics around this time (Trust, The Unbelievable Truth). I loved these films and used to watch them over and over on VHS. The story is excellent. Sophia, a young woman duped into porn films and drug addiction at a young age, (Elina Lowensohn), decides she has had enough and pushes the man who trapped her out a window (Martin Donovan). However, he doesn't die, but wakes up with amnesia. He meets an ex nun, Isabelle (Isabelle Hupert) who takes him in and starts to fall for him. He has nightmares and talks in his sleep about a woman he treated badly and threatened, Sophia. Seeing Sophia in a porn magazine makes him curious about whether she may be his Sophia, and he and Isabelle step out to help her. There's a little more to it than that, but that's basically the premise. Highly original and beautifully filmed. Just the way the script is written is worth watching it for. The delivery of the lines. Can't gush enough. If you have never seen this, I highly recommend it.
Nicki Marie
Super Reviewer
½
Stylistic romantic/comedy/thriller that builds slowly as an amnesiac endeavors to discover his identity. Nice performances in sort of an Hitchcockian homage, particularly by one Damien Young.
Kevin M. Williams
Super Reviewer
Hal Hartley is one of the most brilliant and underrated directors of his generation. What a shame that more people are not familiar with his work. There was a time when Martin Donovan was in every film that I loved...not he's disappeared. What's up with that?
John Ballantine
Super Reviewer
Amateur Quotes
There are no approved quotes yet for this movie.