The Amazing Dr. Clitterhouse
(1938)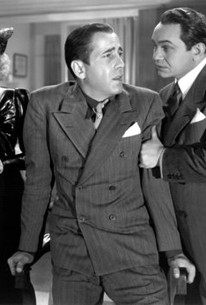 AUDIENCE SCORE
Critic Consensus: No consensus yet.
The Amazing Dr. Clitterhouse Photos
Movie Info
In this comedy drama Dr. Clitterhouse is a famed author and criminologist with a keen interest in the physiological responses experienced by crooks when they commit their crimes. To figure it out, he decides to try committing a few jewel thefts. He then gets in touch with a notorious fence so he can dispose of the loot. The lovely fence in turn introduces Clitterhouse to Rocks Valentine, the criminal mastermind behind a gang of master crooks. The good doctor ends up masterminding several major heists for the gang and this causes the real gang leader to become jealous and lock the hapless doctor in a cold-storage vault during a fur heist. Fortunately, the leader's second in command rescues Clitterhouse who decides to go straight and return to his practice. Unfortunately, the vengeful crime boss blackmails him into continuing his crime spree. Clitterhouse pretends to go along with it and pours a drink for the gangster. It contains poison and as the crook dies, the doctor and his nurse record every last spasm. He then turns himself in and pleads guilty by reason of insanity in court. Later he claims the he was sane and did it all in the name of science. The jury judges him nuts and he goes free.
Critic Reviews for The Amazing Dr. Clitterhouse
All Critics (3) | Fresh (3) | Rotten (0)
The Amazing Dr. Clitterhouse is a refreshing shift from the consciously witty, would-be sophisticated crime films that have circulated since the advent of The Thin Man.
Mr. Robinson, with his volatility and energy, makes Dr. Clitterhouse a credible if unusual investigator. Supporting cast, including Humphrey Bogart and Claire Trevor, excellent.
Audience Reviews for The Amazing Dr. Clitterhouse
It's interesting to see this described as a comedy. I wonder if the Humphrey Bogart character would see it that way. Although this might qualify as gangster-movie lite, if I were to put it into a comedy category, it would be comedy of the absurd. The ending alone would qualify this as absurd, when Robinson sits there in his seat, a free man, his only comment on the judicial process is that it is, "Amazing . . . amazing." And it is amazing that he, a murderer who pleads his own sanity, is found innocent by reason of insanity. That is absurd in the truest sense.
Lanning : )
Super Reviewer
A fun pseudo-gangster movie about a doctor who submerges himself fully into the gangster world in order to write a book about criminal psychology. Edward G. Robinson is his usual enjoyable self as the doctor and Humphrey Bogart as his sort of nemesis in his standard Murderers Row fare. The cast foots the bill well enough but the story seems to make a weird turn every half hour. It goes from a heist picture to a fun gangster comedy, then to a half-assed courtroom drama. Its decent enough but beyond a little fun, all you're probably going to get out of The Amazing Dr. Clitterhouse are a few giggles out of the title. ...Clitterhouse...
Michael Gildea
Super Reviewer
I highly recommend this movie, it is a crime drama with a bit of humor and suspense. A doctor becomes a criminal when studying criminals. Great cast too.
The Amazing Dr. Clitterhouse Quotes
There are no approved quotes yet for this movie.