Amazing Journey: The Story of The Who
(2007)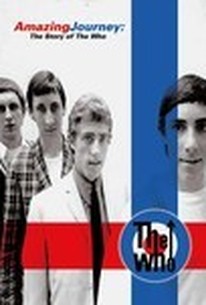 Amazing Journey: The Story of The Who Photos
Movie Info
Oscar-winning filmmaker Murray Lerner and co-director Paul Crowder draw on the essential themes of The Who's music and lyrics to craft a definitive audio-visual document of the influential band's timeless legacy. From their origins as a 1960s R&B cover band to their transformation into the band that changed the course of rock and roll history, Pete Townshend, Roger Daltrey, Keith Moon, and John Entwistle's unstoppable, arena shaking juggernaut is followed as the men behind the music experience triumph and tragedy over the course of the following decades. Authorized by the band, the film speaks with family and friends to explore the meteoric rise of The Who as unreleased performance footage from Monterey, Woodstock, The Concert for NYC and other landmark concerts show fans the scenes that, until this release, they have only been able to read about. ~ Jason Buchanan, Rovi
Critic Reviews for Amazing Journey: The Story of The Who
Audience Reviews for Amazing Journey: The Story of The Who
½
Like any kind of biographical project, rock documentaries have the potential to be nothing more than exercises in ego inflation. When The Who's first film, The Kids Are Alright was released, Roger Daltrey sold it on the basis that it made the band look like "complete idiots", commenting that The Song Remains The Same was made "for the sole purpose of making Robert Plant's dick look big." Amazing Journey is a natural companion to The Kids Are Alright, covering much of the same ground in a more detailed and serene manner, as well as providing some much-needed coverage of the band's activity after the death of Keith Moon. It is the weaker and less engaging of the two films, but newcomers to the band will find much that is engrossing or entertaining, while existing fans can revel in all the new footage on offer. When making a documentary about a famous band, it would be very easy to just regurgitate all the most famous anecdotes, intercut with their greatest hits. And considering all the things Keith Moon did in his life, you could have filled up the two hours with an exhaustive list of every last prank. But Amazing Journey rarely falls into this trap, and when it does approach stories of cars being driven into swimming pools or drum kits being blown up, it makes some effort to clarify the facts rather than just revelling in the myth. The film is very well-researched, drawing on a variety of sources to tell the story of The Who. Alongside a series of interviews with surviving members Roger Daltrey and Pete Townshend, there is footage of the band's TV appearances, live performances at Charlton and Kilburn (which featured in The Kids Are Alright), and various clips from their promotional videos and forays into filmmaking. In certain sections animation is employed - for instance, the cover art of A Quick One is animated while Townshend's mini-opera is discussed. The most interesting section of the film, for both fans and newcomers, is the opening section up until the arrival of Keith Moon in early-1964. This section explores the genesis of The Who's unique sound, describing the musical landscape of 1950s Britain and the young musicians' relationship with London skiffle and American blues. It may be a cliché to describe life in 1950s Britain as being in black-and-white, and to set the scene by showing footage of bombed buildings. But through this section you come to understand the band's initial fire and fury, and how much of their music was a reaction against 1950s culture, both musically and socially. One of the coups of the film is the 8 minutes of footage of the band, then called The High Numbers, performing at the Railway Hotel in London in 1964. This footage is interesting both for its rarity and for capturing the band on the brink of finding their own sound and thereafter success. Daltrey is still singing blues covers in a style somewhere between Lonnie Donnegan and John Lee Hooker, but all the other ingredients are beginning to come through: Moon's exuberant drumming, Townshend's jagged power chords and John Entwistle's complex, jazzy bass lines. Amazing Journey is far from a po-faced affair, with plenty of laugh-out-loud moments to keep us entertained. It's hard not to chuckle when John Entwistle likens their label-mate Jimmy Hendrix, or Pete Townshend impersonates the Beach Boys with equal amounts of playfulness and vitriol. And then there is the montage of Moon's various incarnations, ranging from a pirate to an SS officer and a Dickensian money-keeper. There is also a lot of self-deprecation on the part of Townshend and Daltrey. While the former occasionally covers himself in glory, describing himself as "on the edge of things" and calling Quadrophenia "magnificent" (which it is), Daltrey is much more understated and welcoming. His posture throughout interviews is downbeat, frequently holding his hands near his face and at points being close to tears. He's not asking for sympathy, but nor is he reigning himself in to play to his stereotype of being the band's hard man. This sense of self-deprecation helps to partially mitigate one of the problems of Amazing Journey, namely the chumminess of its outside contributors. The film features contributions from The Edge, Noel Gallagher, Eddie Vedder and Sting, all of whom makes no bones about their adulation of the band and its influence on their own music. Some of them have direct connections with the band - Sting played the Ace Face in Quadrophenia and Gallagher performed with them in 2000. But for all The Edge's knowledge of 1960s music, he doesn't have a lot to contribute, and Vedder frequently resorts to platitude to praise his heroes. There are other problems too. Firstly, there is the question of whether or not it is cinematic; the film had a very short theatrical release before being released as a 2-disc DVD set. It may be a consequence of seeing the same clips being endlessly repeated in TV documentaries, but portions of Amazing Journey do feel like they are more at home on the small screen. The directors use an interesting device to get around this, namely structuring the film like a double album; the film stops to turn the record over, and the footage occasionally skips and distorts like sound on a scratched LP. But about halfway through this device is phased out and the niggling feeling remains in your mind. From a fan's point of view, the film does begin to canter through the history after 1975. It treats the later works and the gaps between reunions rather more brusquely, when in fact there is some interest in exploring the various behaviours of the band outside The Who. We get a mention of Moon's drunken exploits in 1974, but it completely glosses over his fledging film career and the band's various solo efforts. You can understand the filmmakers wanting to keep the running time down, and the need for the film to play to a mainstream audience, but long-time fans of the band will still feel like this was a missed opportunity. The overarching problem with Amazing Journey, however, is that it is a little too civilised for its own good. It doesn't have the raw, shambolic energy of The Kids Are Alright, so that even in the bits which are laugh-out-loud funny, or which feature Townshend being outrageous, it feels a little too reigned in to properly capture the atmosphere of the band. There is an argument for shooting in a more serene style, since some of the band's energy has waned and both surviving members are a lot older and wiser. But the recent footage of the band touring Endless Wire throws the former claim into question, so that while the film is engrossing it is also frustrating. Amazing Journey: The Story of The Who is a well-made and informative attempt to catalogue the highs and lows of one of the world's greatest rock bands. The sheer amount of archive material gives it a comprehensive feel, and as an introduction to the band it is very accessible and entertaining. But long-time fans of the band may be disappointed in places, both in the lack of coverage post-1982 and in the calmer style of presentation. It's good but not great, and definitely not The Kids Are Alright.
Daniel Mumby
Super Reviewer
Jeez, with "The [u]Extraordinary[/u] Story of the New York Cosmos" and now this, "[u]Amazing[/u] Journey", it would appear as though Murray Lerner and Paul Crowder love to exaggerate the quality of their documentary's subject matter, and really, "who" do they think they are by saying what we should think? Well, in all fairness, Murray Lerner is is an Oscar-winning music documentarian and Paul Crowder is an actual musician, but then again, the latter was, in some way, involved in a truly devestating tragedy, the recording of Wham!'s "Last Christmas", and after that, I would be a bit nervous about Crowder praising his own efforts, because I, like The Who, don't plan to be fooled again. Well, rest easy, folks, because you won't be getting the "summertime blues" when watching this, if you're interested in seeing a documentary about The Who, that is, because otherwise, you might be tempted to say, "I really wanna know, 'who' cares?". Well, I like The Who, so I reckon I care, and I'd imagine Jerry Bruckheimer would care as well, because that boy sure plays him some Who, or at least just during the intros to the "CSI" shows. I would say that Jerry Bruckheimer should have produced this documentary, but then again, he probably would have gotten Michael Bay feed his "teenage wasteland" of an audience by putting in a bunch of big explosions over The Who's instrument smashing sequences and beautiful women randomly being shot hardly appropriately, as well as exhaustingly overbearingness and an excessive length. Wow, looking at those last two points, now I can't help but wonder if Joe Berlinger and Bruce Sinofsky are just aliases for Michael Bay, because exhaustingly obnoxious and too long seem to fit that Metallica documentary, "Some Kind of Monster", just fine. Granted, I still like "Some Kind of Monster", and certainly more than I like Metallica, but make no mistake, this documentary is better, and yet, with that said, everyone's favorite blind, deaf, dumb, cult-leading pinball wizard, Tommy, probably wouldn't be able to miss certain shortcomings in this film. Many, including IMBD, for whatever reason, aggregate the runtime of anything and everything featured on the DVD set through which this documentary is presented and advertize the feature as nearly four hours in length, when really, it's a mere two hours long, which isn't to say that you should get too excited about the lighter runtime, because as lively and, in many ways, tight as this film is, and although I can't quite see how they could make a documentary on The Who dance near the four-hour mark, the film explores so much and takes only so much to time to do so, hurrying out, if not just plain glossing over many points, some of which are weighty and could have added a fair bit of additional punch to the documentary, yet just end up underexplored by the film as it races along to its next bit of material. Of course, when the film does take the time to particularly meditate upon something, the focal shift is almost jarring, occurring only every so often, yet happening enough to throw you off as it cuts through one point to really explore another and leave convolution to ensue as a supplement to the exhaustingness spawned from pacing that gets to be a touch too swift for its own good. Having only two hours to meditate upon the rich history of an iconic group, whose often charged musical efforts drive almost the entirety of atmospheric pacing, this film boasts an often intense pulse and near-relentlessly swift pace, which isn't too exhaustingly overbearing, yet nonetheless bombards this film with a certain degree of freneticism that may be compensated for by the documentary's strengths, or at least diluted by the viewers' getting reasonably used to it after a while, but still stands and hurries this film along rather exhaustingly, leaving aforementioned flesh-out limitations, a degree of convolution and, of course, a degree of disengagement value to ensue. If nothing else, the pacing leaves repetition to ensue, not to the point of monotony, but certainly to the point of leaving the documentary to feel as though its walking, or rather, considering the pacing, hauling in circles with quite a bit of compensation to make it ultimately rewarding, but only so much in the way of smoothness and, for that matter, direction. The film isn't totally pointless, yet it is a bit aimless, flowing along with a limited structure and quite a bit of questionable pacing, thus emotional distance flows into play. There is quite a bit to complain about, and justly so, as this documentary holds quite a bit of potential that it lives up to more often than not, though not consistently, suffering from material limitations and pacing issues that seriously need to be compensated for. Well, sure enough, as flawed as this documentary is, there is indeed compensation that meets every misstep with a charge that keeps you sticking with the film and feeling ultimately satisfied, largely because it has quite the appealing style. A stylistic piece powered by swift pacing that, if more mishandled than it already is, could really undercut momentum, this documentary relies heavily on editing to make or break the engagement value, and let me tell you, this film's investment in the editing department fails only to go squandered, as Paul Crowder, Pagan Harleman and David Zieff compose the final cut with clever style that arranges content slickly in a way that both dazzles and backs up the film's tone, admittedly in a problematic fashion that intensifies the freneticism that taints the final product much too much, yet not so much so that you can't appreciate the effectiveness of the editing style and attracts you to the atmosphere. Of course, it's not just the visual stimulants that stylishly appeal, but the musical stimulants, because although I wouldn't exactly consider The Who sensational on a general scale, they were indeed a talented group of strong musicians who made more than a few dynamic songs that are undeniably highly respectable as both inventive and, well, just fun to hear, particularly when they drive a film's livliness, because even though The Who's mostly intense musicality proves supplementary to the film's atmospheric overbearingness, the soundtrack is not only musically impressive, but livens up atmosphere more than it bears down on it, sparking entertainment value further and sustaining your attention, which isn't to say that the music icons need instruments to attract your investment. We're not exactly looking at Peter Bogdanovich's "Runnin' Down a Dream" here, where the quantity of interview footage is astronomical, yet many have much to discuss when it comes to The Who, and the conduction of the interviews reflect that very well, focusing on the charisma of the interviewees, particularly the true who's who of The Who, the surviving Roger Daltrey and Pete Townshend, who bring this material to life with a lot of colorful charm that really gets you to tap into the humanity of this documentary's subjects, while the actual in-depth material tackled takes you even further into the essence of the subject. Again, this film's material exploration value and focus are rather uneven, drawing only so much from one piece of subject matter before turning right around to absorb too much from another piece of subject matter, and such unevenness is problematic and throws off the full effectiveness and fluidity of this documentary, yet is often too thin to do all that much damage, for although this film's subject matter stands to be more comfortable in its presentation through this perhaps too short, conceptually extensive documentary, you can expect to find quite a bit of interesting material that draws much depth and color from the subjects' artistry and humanity, tapping into The Who intriguingly and, at times, resonantly. Directors Murray Lerner and Paul Crowder craft the film in an often problematic fashion that keeps things too aimless and, at times, emotionally distant, but when Lerner and Crowder do, in fact, find their grip on the composition of this documentary, they draw much genuine compellingness from atmosphere and compliment the effectiveness of the material presented with engaging inspiration. There's no denying that the film's early stages are rocky, nor is there any denying that the flaws that are arguably at their most problematic early on rarely truly dissipate at any point throughout this film, but once Lerner, Crowder and, of course, the audience get into the flow of things, you'd be hard pressed to not find yourself more emotionally invested than not. If nothing else, you can expect to be entertained thoroughly, as this film is a livley one whose style may get a touch carried away, yet generally sustains your attention, while the generally strong handling of the subject matter sustains true investment until, by the end, you find yourself truly rewarded. At the end of this, well, just quite good journey, it's hard to not be a little exhausted by the film's relentlessly swift pace and fair degree of repetition, which make limitations in meditation upon certain aspects and a degree of unevenness in focus all the more dinconcerting, and threaten to render the final product disengaging and underwhelming, yet never fully go through as this film's downfall from a rewarding state, which goes secured by engrossingly stylish editing and clever plays with the fine soundtrack that add to the film's considerable entertainment value, as well as by the colorful interviews and generally strong directorial duet performance by Murray Lerner and Paul Crowder that compliment the effectiveness of the generally abundant wealth of intriguing material that goes into making "Amazing Journey: The Story of The Who" a thoroughly entertaining, consistently engaging and altogether ultimately satisfying study on the lively history of a legendary rock band. 3/5 - Good
Cameron Johnson
Super Reviewer
½
Director:Paul Crowder Murray Lerner Released: 2007 Stars: Pete Towsend, Roger Daltrey, Keith Moon, John Entwistle Genre: Documentary Country: UK/US A documentary on The Who, featuring interviews with the band's two surviving members, Pete Townshend and Roger Daltrey.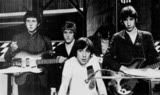 Had the Amazing Journey box set for christmas and haven't had the chance to watch it yet. Luckily I got the chance today and loved every minute of it. Being a Who fan, this review made me slightly biased but this documentry give me extra insight into the careers of the 4 members, which I might not have known before. For instance someone of my generation "no pun intended" my only have heard of them through teh CSI songs, which is slightly irritating. This documentry manges to cram most things into the 2 hr running time. My only objection is that it didn't cover Quadrophenia. The band went through some rough times, which is stated in the film. From the deaths of Keith Moon, John Entsiwtsle and the often violent arguments Roger Daltrey and Pete Townsend. What I found interesting was that Pete Towsend wrote most of the songs and Daltry wasn't necessarily the core of the band. Pete Towsend also wrote the two films Tommy and Quadophenia. This documentry is well constructed and gives all the insight you need into the band without trying to cram it all in. It also features some unseen footage from the days of the '60's to behind the scenes footage at gigs. Overall a highly recomnded rock documentry to all rock fans....well worth the wait!

Sarah Gaish
Super Reviewer
Amazing Journey: The Story of The Who Quotes
There are no approved quotes yet for this movie.