Amazing Screw-On Head
(2006)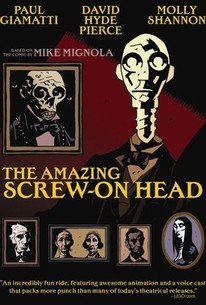 AUDIENCE SCORE
Critic Consensus: No consensus yet.
Movie Info
An artifact that will allow anyone who possesses it to threaten all life on Earth has been stolen by the most dangerous criminal known to man, and now it's up to President Abraham Lincoln's top spy - a disembodied head known only as The Screw-On Head - to retrieve it in Hellboy creator Mike Mignola's hilarious send-up of Lovecraftian horror and steampunk insanity. The dreaded Emperor Zombie (David Hyde Pierce) is threatening to unleash the greatest horror that mankind has ever known, and the only one who can stop him is Screw-On Head (Paul Giamatti). Now, with time running out for all of humanity, Screw-On Head enlists the aid of loyal manservant Mr. Groin and talking canine Mr. Dog in retrieving the priceless artifact and saving the world from a grim and violent fate. As the ultimate confrontation draws near, Screw-On Head searches high and low for a body powerful enough to fight and overcome the horrible powers that have been unleashed by Emperor Zombie.
Critic Reviews for Amazing Screw-On Head
Audience Reviews for Amazing Screw-On Head
It doesn't get anymore surreal than to hear President Lincoln say, "Screw-On Head, calling Screw-On Head." It's deliriously weird, off beatly funny and has some of the best animation ever. Of course it doesn't hurt that I'm already a fan of Paul Giamatti and especially David Hyde-Pierce. Only problem is it's only 22 minutes long!! Figures SciFi Channel didn't pick this show up.
A.D. Villarreal
Super Reviewer
½
[font=Century Gothic]"Amazing Screw-On Head" starts in 1862 with Professor Faust being kidnapped by a monkey and two old women, one of whom is a lycanthrope.(But please don't hold that against her.) President Lincoln assigns his top agent, Screw-On Head, to the case.[/font] [font=Century Gothic][/font] [font=Century Gothic]Written by Bryan Fuller and based on the comic book by Mike Mignola, "Amazing Screw-On Head" is an immensely entertaining animated movie, containing all sorts of undead and enough steampunk to make a geek like me very happy. It is also a deliciously warped alternate history. And Paul Giamatti gets to be the hero for once!(Yes, it's only his voice but still...) My only complaint is that it is only 22 minutes long. [/font]
Amazing Screw-On Head Quotes