Amazon Women on the Moon
(1987)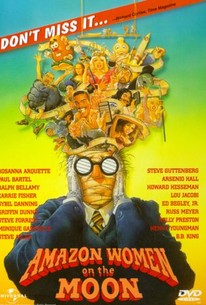 Amazon Women on the Moon Photos
Movie Info
The 1987 portmanteau comedy feature Amazon Women on the Moon lampoons several film genres in general and the 1954 sci-fi cheapie Cat Women of the Moon in particular. Other sketches in Amazon Women include an opening bit with Arsenio Hall; a vignette titled "Son of the Invisible Man" wherein a naked Ed Begley Jr. runs around in full view of the nonplussed supporting cast; the It's Alive parody "Hospital", which offers the spectacle of Michelle Pfeiffer giving birth to Mr. Potato Head; and a Siskel & Ebert takeoff, featuring Arche Hahn as a TV viewer whose entire life is given a "thumbs down." Directed by several hands, including Joe Dante, Carl Gottleib, Peter Horton, John Landis, and Robert K. Weiss, Amazon Women on the Moon also features a satire of the Kroger G. Babb school of "sex hygiene" exploitation cheapies, with syphilis victim Carrie Fisher being counseled by unctuous doctor Paul Bartel. ~ Hal Erickson, Rovi
Critic Reviews for Amazon Women on the Moon
Audience Reviews for Amazon Women on the Moon
½
Sometimes very silly and not so funny, but with a interesting entertaining, just like the cast, Amazon Women on the Moon, have a kind of charm bring a few comic actings, just like the sketch of Arsenio Hall. Fresh.
Lucas Martins
Super Reviewer
As much as I like Joe Dante, I can only like a few of the jokes in his sketches; the work of the other guys is even worse. Landis' sketch with Arsenio seems to want to take black upward mobility down a notch with a couple old stereotypes. Ed Begley, Rosanna Arquette, Carrie Fisher and Andrew Dice Clay don't come off bad.
Adam Mahler
Super Reviewer
½
If you liked The Kentucky Fried Movie, you'll love Amazon Women on the Moon! This spoof movie is hilarious, outrageous, timely, and full of interesting film people to look for too. I love this movie, it's one of my favourite spoof films, and I highly recommend it.
Amazon Women on the Moon Quotes
There are no approved quotes yet for this movie.