Amélie
(2001)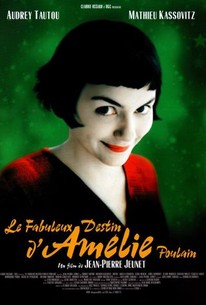 Movie Info
One woman decides to change the world by changing the lives of the people she knows in this charming and romantic comic fantasy from director Jean-Pierre Jeunet. Amelie (Audrey Tautou) is a young woman who had a decidedly unusual childhood; misdiagnosed with an unusual heart condition, Amelie didn't attend school with other children, but spent most of her time in her room, where she developed a keen imagination and an active fantasy life. Her mother Amandine (Lorella Cravotta) died in a freak accident when Amelie was eight, and her father Raphael (Rufus) had limited contact with her, since his presence seemed to throw her heart into high gear. Despite all this, Amelie has grown into a healthy and beautiful young woman who works in a cafe and has a whimsical, romantic nature. When Princess Diana dies in a car wreck in the summer of 1997, Amelie is reminded that life can be fleeting and she decides it's time for her to intervene in the lives of those around her, hoping to bring a bit of happiness to her neighbors and the regulars at the cafe. Amelie starts by bringing together two lonely people -- Georgette (Isabelle Nanty), a tobacconist with a severe case of hypochondria, and Joseph (Dominique Pinon), an especially ill-tempered customer. When Amelie finds a box of old toys in her apartment, she returns them to their former owner, Mr. Bretodeau (Maurice Benichou), sending him on a reverie of childhood. Amelie befriends Dufayel (Serge Merlin), an elderly artist living nearby whose bones are so brittle, thanks to a rare disease, that everything in his flat must be padded for his protection. And Amelie decides someone has to step into the life of Nino (Mathieu Kassovitz), a lonely adult video store clerk and part-time carnival spook-show ghost who collects pictures left behind at photo booths around Paris. Le Fabuleux Destin D'Amelie Poulain received unusually enthusiastic advance reviews prior to its French premiere in the spring of 2001, and was well received at a special free screening at that year's Cannes Film Festival. ~ Mark Deming, Rovi
Critic Reviews for Amélie
Audience Reviews for Amélie
Amelie is a fun, entertaining and charming drama with comedic elements that is a unique film going experience. With a great story at hand, director Jean-Pierre Jeunet crafts a film that is quite eccentric in the way that it's told. I don't want to get into comparisons here, but the film somewhat reminded me a bit of Wes Anderson's work due to the fact that it has a plateau of varied characters, whimsical story and unique style. This is an accomplished movie, one that boasts a terrific story and some splendid performances. For a romantic drama comedy, Amelie succeeds at being an engaging film that will grab your attention from start to finish. I must admit, I didn't expect much from this film, but I was pleasantly surprised at how good the film was. Audrey Tautou does some great work here, and is perfect in the lead role, and I feel she brings a certain charm to her performance that really adds much more depth to the film. Viewers wanting a good mix of drama and comedy, aided by a well written storyline, then this is a must see film. The film has enough wit and charm to satisfy anyone looking for a good film that is different in the way it presents a romantic story. This is a bizarre take on an old genre, and in many ways, it's a terrific way to tell a story. Amelie has charm, and that's key in making a worthwhile film to watch. The acting and story go hand in hand, and for viewers looking for something different, Amelie might be that film that you're looking for. This is a film that worth seeing, and one that exceeds expectations, and like I said, I expected to be disappointed, but I walked away enjoying it.
½
Oozing charm and creativity, "Amélie" is a beautiful pastry of a movie. Sweet and bursting with color, it's delicious indeed but after a few bites you expect more. The film is so proud of its charming cleverness that it gets in the way of the story which takes a back seat to the quirky characters and unusual personalities. Jean-Pierre Jeunet has inspired many cinematographers and art directors with his work and "Amélie" remains his grand achievement. With so much work given in creating such an interesting French world, it's too bad the central story is shrug-worthy.
Tony Gandía
Super Reviewer
A Parisian girl devotes herself to secretly helping those around her, but is it only because she's afraid to go after love herself? This crowd-pleasing comedy/romance with talking photographs and other magical elements is whimsical almost to the point of being flighty. Enjoyable for sure, but I wouldn't have minded seeing a few cannibals pop up.
Amélie Quotes
| | |
| --- | --- |
| Old Man Collignon: | She has a memory of an elephant! |
| | |
| --- | --- |
| Dominique Bredoteau Woman: | Don't you drink? |
| Amélie: | No, I'm working |
| | |
| --- | --- |
| Amélie: | Without you, today's emotions would be the scurf of yesterday's. |