Amen
(2003)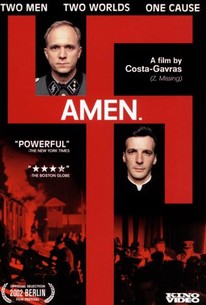 TOMATOMETER
AUDIENCE SCORE
Critic Consensus: Amen loses some of its impact to a protracted running time and deliberate pace, but Ulrich Tukur's powerful performance helps bring the story's worthy themes to life.
Movie Info
Two systems: the Nazi machine versus the Vatican and Allied diplomacy. Two men are struggling from the inside: On one side, Kurt Gerstein, a real-life chemist and SS officer, supplies the death camps with zyklon B while he tirelessly denounces the crimes and alerts the Allies, the Pope, the Germans and their churches of their murderous policy against the European Jews. Kurt does this at his own risk, and at the risk his family's welfare and safety. On the other side, Ricardo Fontana, a young Jesuit, is a fictitious character who represents all the priests, who were determined to struggle against savagery; many of them paying for their courage with their lives. Countless priests, some known, others anonymous, were simply not content to live with the silence of their church's hierarchy vis-à-vis the Nazi machine.
Audience Reviews for Amen
Brilliant Foreign film examining the link between the Vatican and the Third Reich, Amen roars across the screen, and conveys the ignorance of the Vatican to do nothing in regards to the German mass extermination of the Jews. Director Costa-Gavras crafts a terrific drama, one that is thoroughly engaging from start to finish due to the fact that it boasts a very well thought out story that is very interesting. Amen will surely make the viewer think, ask questions, and will surely infuriate viewers. This is nonetheless an accomplished picture, one that will definitely appeal to history buffs and to anyone looking for a great film to watch. The lead actor is terrific in the part he places, and is the only one who sees and tries in vain to warn of the atrocities of the Nazis. With some stunning performances, this is an engaging picture that ranks among the finest foreign films that I have seen in quite some time. With an effective story, and exceptional direction, Amen is a richly detailed drama that is unforgettable due to its story. Brilliant, taut and thrilling, yet dramatic in its style, Costa-Gravas picture is exceptional in the way it tackles its subject. It's no secret the Vatican turned a blind eye to the Nazi Atrocities being committed in occupied territories, and this film really goes in depth on that. One thing that does stand out is the lead characters realization that what is occurring in Europe under Nazi rule is terribly wrong, and he tries desperately to tell his superiors to help stop the mass extermination of Jews. Even though Amen is a dark film by nature, it does have a glimmer of hope in the sense that one person had a conscience to do the right thing in the face of adversity.
Behind the scenes look at the Nazi story. Very thought provoking to see these things that we don't hear about in history class.
Jarrin Rozenblad
Super Reviewer
This is, by far, my favorite historical subject. Just when I thought that I have seen it all, and learned it all, another view of that horrific time comes to light. It's appalling to believe that the world stood still while millions of Jews were being sent to death camps. It's even more apalling (and blows my mind) that so many COULD have tried to stop it, but didn't due to political reasons and more. Although this film shows how the Catholic Church refused to stand up to Hitler, it also shows how a few were willing to die for the sake of humanity...including an actual SS Officer. Don't look for flash, excitement, and gore here. This is an intense, thought provoking drama. Well done!
Cynthia S.
Super Reviewer
Amen Quotes
There are no approved quotes yet for this movie.