Amer
(2010)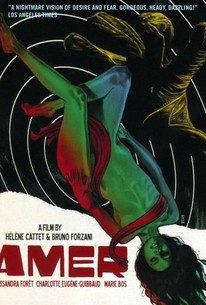 Movie Info
Searing memories and carnal desires rule the mind of Ana (Marie Bos), a young woman in thrall to her own fantasies in this French psychological thriller that blends eroticism with European slasher movie traditions and a haunted house on the Côte d'Azur. The film's enigmatic, intimate cinematography builds an atmosphere thick with the pall of evil, as Ana's visions and obsessions draw her toward deeper eroticism -- and deeper danger. -- (C) Olive Films
News & Interviews for Amer
Audience Reviews for Amer
"Amer" is an incoherent mess of a movie that suggests far more than it ever gets around to delivering. As far as I can tell, it involves Ana(Marie Bos) returning to the family home for the first time as an adult. As a child, she(Cassandra Foret) is haunted by the death of her grandfather(Bernard Marbaix) whose corpse she steals a fob watch from, breaking one of his fingers in the process which should give her at least a few years worth of bad luck. Before that can kick in, she sees something much more disturbing which is her mother(Bianca Maria D'Amato) and father(Jean-Michel Vovk) having sex.(There is a middle section but I have completely forgotten what happened there.) Instead of providing any background or context, "Amer" is just a complete exercise in style without the relevant skill to put it to good use. I mean, somebody sure likes their filters. The editing is almost as bad but at least the extreme close-ups of eyes could suggest some sort of voyeurism.
½
Prior to viewing this a lot of people would have heard this to be an homage to the Italian Giallo films of the 70s, and it is, but mostly in style only. Plot-wise it's very different to your conventional police detective on the trail of a killer type deal... in fact story is very minimal in this one, as is the dialogue and I was left bewildered as to what it was all about at the end of it all. Only one kill in the whole movie, but what a graphically vicious one it is though, definitely not for the squeamish. But there is undeniable quality in the style of it all - very pleasing on the eye. The suspense is masterfully built and there are some genuinely creepy and haunting moments to be had, especially during the first segment. I'll definitely need to give this one another watch to make sense of it all, I just didn't expect it to be so artsy.
½
Reading the above summary you'd be forgiven for confusing this with last years "Black Swan" or Polanski's "Repulsion". Despite the critical plaudits of the aforementioned, Amer is the strongest of the three. That's not to say it's without flaws, and Amer will struggle to win any fans from the general movie-going public. It's told almost entirely without dialogue, something which instantly scores brownie points with me. Having said that there's not much of a story to tell, think "Repulsion" if it was made in mid Seventies Italy. The movie is split into three distinct segments. The first has our protagonist as a young girl attempt to steal a locket from a decrepit relative who more than resembles the witch from "Suspiria". It heavily references Mario Bava's "Black Sabbath", all primary colours and dripping water. The middle sequence is the standout, a beautifully shot walk through a mediterranean village frought with perceived sexual threat. Sadly the film collapses in it's third act, a blatant "Repulsion" rip-off that drags on too long and leads to a heavy handed metaphorical coda. If you like purely visual cinema I'd say give this a look purely on the strength of it's first half but prepare to lose interest as it panders out. I'll be curious to see the film-makers next effort, hopefully it'll have a bit more meat on it's stylish bones.
The Movie Waffler
Super Reviewer
Amer Quotes
There are no approved quotes yet for this movie.