An American Crime
(2007)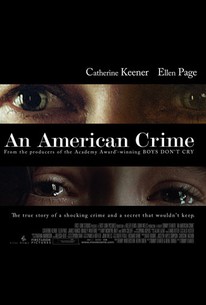 Movie Info
A seemingly ordinary housewife and the mother of seven, imprisons a beautiful teenager, who has been left in her charge, in the basement of her Indiana home.
News & Interviews for An American Crime
Critic Reviews for An American Crime
Audience Reviews for An American Crime
MisterYoda ?
Super Reviewer
Based on a true story from the 1960s this film tells the tragic tale of a young girl being tortured and held captive by a family for a months. Setting the court hearings as the frame for the reconstruction of the terrible events the film does never show the cruel details of young Sylvia's misery, which doesn't lessen the more and more disturbing and gloomy impact on the viewer. The main perpetrator, Catherine Keener as a mother who's in over her head with six kids and no money, does not start out as a bad person, just someone who is slowly losing control over her life and her kid's future. How things could go so dire so quickly remains somewhat unexplained, which only increases the horror. Much scarier than the mum's horrible actions are all the people looking the other way or joining in because they are told to. The acting is accordingly intense. Only the dream sequence towards the end aims for cheap horror thrills and doesn't do justice to the film and the case. No fun film my any means, but a gloomy yet somewhat superficial look at the unexpected horrors behind family doors. For evil to succeed all it takes is good to look the other way.
½
Being always curious to watch movies based on true story, it was but obvious that I was compelled to watch this movie. I read a part of the plot and then decided to go for it to know what happened to that girl (Sylvia Likens), why she suffered, how much and how long. Of course, this wasn't a documentary, so I didn't expect the exact depiction of the real life story. Yet it provided a generous amount of info, including a part of court transcriptions, about this tragic event. R.I.P. Sylvia Likens & R.I.H. all those who tortured her. [R.I.H. = Rot In Hell (just made it out; ain't sure whether such abbreviation exists currently.)]
familiar stranger
Super Reviewer
An American Crime Quotes
There are no approved quotes yet for this movie.