American Dreamz
(2006)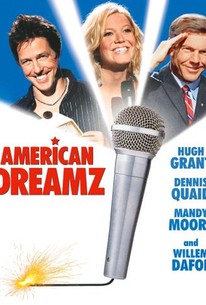 TOMATOMETER
AUDIENCE SCORE
Critic Consensus: A cheerfully silly satire with an unfortunate lack of focus, American Dreamz takes aim at numerous targets, but isn't pointed enough for relevant social commentary.
Movie Info
On the morning of his re-election, the President decides to read the newspaper for the first time in four years. This starts him down a slippery slope. He begins reading obsessively, reexamining his black and white view of the world, holing up in his bedroom in his pajamas. Frightened by the President's apparent nervous breakdown, his Chief of Staff pushes him back into the spotlight, booking him as a guest judge on the television ratings juggernaut (and the President's personal fave), the weekly talent show American Dreamz. America can't seem to get enough of American Dreamz, hosted by self-aggrandizing, self-loathing Martin Tweed, ever on the lookout for the next insta-celebrity. His latest crop of hopefuls includes Sally, a conniving steel magnolia with a devoted, dopey veteran boyfriend, and Omer, a recent Southern Californian immigrant (who just happens to be a bumbling, show tune singing, would-be terrorist awaiting activation). When both Sally and Omer make it to the final round of Dreamz -- where the President will be judging along with Tweed -- the stage is set for a show the nation will never forget.
News & Interviews for American Dreamz
Critic Reviews for American Dreamz
Audience Reviews for American Dreamz
I last watched this years ago. I could remember being disappointed in it, but not why. Had a chance to re watch it recently. I do like Mandy Moore and the whole "American idol" take off angle seemed like it could be fun. 30 minutes in, and I remember what I didn't like. All the political stuff and the terrorist bit... Just two story lines that don't go together, and it's just not funny enough. I did keep watching. I guess there's something to it, but I could have been so much better than it was if they played up more on how the TV stations use the contestants and less on the other crappy stuff. There is enough serious movies about politics and terrorism without throwing it into this type of movie.
Nicki Marie
Super Reviewer
Average comedy that is much better than what I'd think this would be, American Dreamz had good moments of laughter. The cast assembled here are pretty good in their parts. The film pokes fun of American Idol and it does it very well. This isn't the best comedy around, but works well enough to keep you entertained. The film is fairly underrated and it does manage at being one of those films that is much better than what the critics said. I found this film to be very amusing and I'm not one who normally likes these types of films. I enjoyed the film and thought it had plenty of good laughs throughout the film. The script was imperfect, but worked well enough to be entertaining. I thought that Mandy Moore was great here and really was the best part about the film. If you're looking for a good comedy with some good laughs, then this film is for you. The cast make the film interesting and director Paul Weitz keeps the ball rolling in delivering the laughs. American Dreamz is not a perfect comedy, but for what it is, it's a mindless comedy that is underrated. The film is purely a mindless, enjoyable comedy. If you're in the mood for something fun, then give this one a shot, just don't expect anything great with the film. The film nonetheless succeeds at being funny despite its imperfections. The cast make it work well and the gags are funny. This a very good underrated comedy that is worth seeing.
This movie sucked, I hated every moment of it. It was unfunny, bad story, characters are idiots, and the ending was retarded.
Jim Careter
Super Reviewer
American Dreamz Quotes
| | |
| --- | --- |
| Sally Kendoo: | (while kissing in vid).. did u get that?? |
| Sally Kendoo: | [while kissing in vid] Did you get that? |
| Martin Tweed: | DIRTY BITCH! |