Der Amerikanische Freund (The American Friend)
(1977)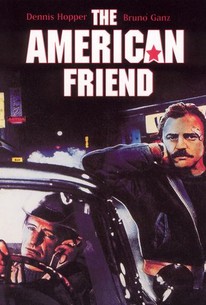 Der Amerikanische Freund (The American Friend) Photos
Movie Info
Hamburg denizen Jonathan (Lowell Ganz) is under the impression that he is dying from a blood disease. Jonathan's "American friend," displaced cowboy Ripley (Dennis Hopper), decides to use his illness to his advantage. Ripley introduces him to gangster Minot (Gerard Blain), who proposes to the dying man that he should become an professional mob assassin, assuring a large legacy for his wife and children. Since he is facing death anyway, what has he to lose? Ripley had originally intended to allow Jonathan to do the dirty work that he didn't feel like doing, but has second thoughts when he becomes friends with the doomed man. In the end, it is Ripley who is the loser, even though Jonathan turns out to be right about his days being numbered. Director Wim Wenders based his screenplay for American Friend on one of the many "doppelganger" crime novels by Patricia Highsmith.
Critic Reviews for Der Amerikanische Freund (The American Friend)
Audience Reviews for Der Amerikanische Freund (The American Friend)
Nice performances, but too slow for me. And unlike others, I didn't find much to savor here. A thriller/mystery this predictable coupled with such a sluggish pacing is not my cup of entertainment.
familiar stranger
Super Reviewer
beautifully shot and atmospheric thriller based on ripley's game with a great performance by bruno ganz. i admit i found it hard to imagine hopper as ripley but he was quite good too. and it seems to be making a statement about u.s vs. europe. don't trust the americans? hmm...
Stella Dallas
Super Reviewer
A brilliant art house noir by Wim Wenders, adapted from Patricia Highsmith's Ripley's Game. Bruno Ganz plays Jonathan Zimmermann, a picture framer with an incurable blood disease, whose precariousness of health is manipulated by Dennis Hopper's Tom Ripley, a sociopathic art dealer seeking to recruit a contract killer for a gangland associate. Eager to provide his wife and son with some financial security before his 'imminent' demise, Zimmermann is sucked into the criminal underworld. Wenders' presentation is dazzling enough to prevent us from scrutinising the rather implausible plot too closely. There are a couple of artsy digressions - unfortunate, because Robby Müller's stunning photography ensures that the film would have been just as aesthetically pleasing without them - but, happily, Wenders doesn't let them get in the way of the story. I could have done without some of Hopper's trademark nutty behaviour - he's Dennis Hopper, right! I'll buy the fact that he's crazy sight unseen - but it's fun to see him playing opposite Nicholas Ray, the director who gave him an early break with Rebel Without a Cause. Curiously, the protagonist here is called Zimmerman(n) and the film closes with Ripley mumbling the lyrics to Bob Dylan's I Pity the Poor Immigrant. Coincidence?
Der Amerikanische Freund (The American Friend) Quotes
There are no approved quotes yet for this movie.