American Friends
(1991)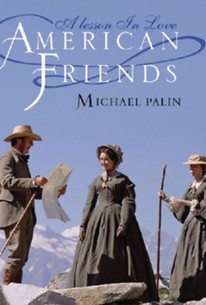 AUDIENCE SCORE
Critic Consensus: No consensus yet.
Movie Info
Michael Palin plays an Oxford don with acute female trouble in this film. While on holiday, Palin crosses the path of an American tourist and her adopted daughter. Both women express an inordinate desire for the bookish Palin, leading to profound changes in the lives of all concerned.
Critic Reviews for American Friends
Audience Reviews for American Friends
Depending on your degree of cynicism, you could call "American Friends" a sweet, pastoral romance or just an arthouse rehash of the "Grease" plot (two lovers meet on vacation but have problems when back in their usual circles). Most people (including me) will seek out this film because Monty Python's Michael Palin is the star and co-writer. The script is based on his own great-grandfather's experiences. But don't be fooled -- despite the presence of Palin and Connie Booth ("Fawlty Towers"), "American Friends" has few, if any, laughs. Yet both actors are quite solid in these dramatic roles. The setting is Victorian times, the era of polite repression and woolly sideburns. Palin is Reverend Francis Ashby, an Oxford administrator poised to take over the university from its dying, elderly chancellor. All is well until he visits the Swiss Alps and meets pretty Elinor (Trini Alvarado) and her spinster aunt (Booth). Realizing he could violate his school's ferocious moral code, he ducks out early and returns home. But when Elinor and Caroline unexpectedly turn up at Oxford, his feelings resurface and a scandal threatens. The cast also features Alfred Molina as Ashby's devious rival, along with many other actors faced with temporary shaving issues. "American Friends" looks wonderful with its sparkling sunlight, mountain scenery and Oxford's stately architecture. But the story is too mild, and the age difference between the leads is awkward. Palin is 24 years older than Alvarado, and the gap between their characters is even wider. We're supposed to root for their love, but this is difficult when Francis is in his late forties and ingenue Elinor seems barely legal.
Eric Broome
Super Reviewer
Ross Collins
Super Reviewer
American Friends Quotes
There are no approved quotes yet for this movie.