American Graffiti
(1973)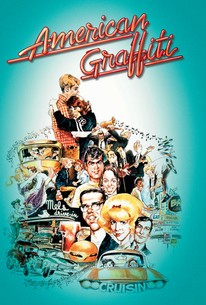 TOMATOMETER
AUDIENCE SCORE
Critic Consensus: One of the most influential of all teen films, American Graffiti is a funny, nostalgic, and bittersweet look at a group of recent high school grads' last days of innocence.
Movie Info
This Academy Award-nominated classic, voted one of the American Film Institute's top 100 Films Of All Time, features the coming of age of four teenagers on their last summer night before college. Rediscover drag racing, Inspiration Point and drive-ins all over again in this nostalgic look back at the early '60s. The incredible soundtrack brings you the most memorable rock 'n' roll hits of the era. Directed by George Lucas and produced by Francis Ford Coppola, this classic stars Harrison Ford, Richard Dreyfuss, Ron Howard, Suzanne Somers, Cindy Williams, Wolfman Jack and Mackenzie Phillips. Capture the heart of America's last age of innocence with American Graffiti.
News & Interviews for American Graffiti
Critic Reviews for American Graffiti
Audience Reviews for American Graffiti
George Lucas is happily in his element discussing, remembering, life in small town United States before the assassination of John F. Kennedy and the arrival of the Beatles. While there's old cars and plenty of early rock and roll radio, malt shops and cruising the strip, it's in the electricity of the sock hops that Lucas really feels his groove. Nice stuff, even if the thrust of the thing is chiefly about how being white and well thought of is no guarantee of happiness. Of the four main characters, clichès all (one squeaky clean class president, one James Dean-like gearhead, one "smart guy", and one spazz nerdtype), only one "gets lucky" and he gets an asswhupping. Luckily the music saves the thing.
Kevin M. Williams
Super Reviewer
My favorite George Lucas film, "American Graffiti" nails youthful nostalgia almost perfectly, with believably charming, yet confused characters, an incredible, almost omnipresent soundtrack, and great car-based visuals which are trance-inducing as well as useful in placing audiences firmly within the strangely familiar world of teenagers in 1962.
Sam Barnett
Super Reviewer
"American Graffiti" is the type of movie that I can see a lot of people disliking, but by the end of the movie, after all the characters go through their transformations, it is very interesting, funny, and heart warming to see how mature kids used to be, when they needed to be. They still have an insane amount of fun while knowing that life is coming, tomorrow. Their plan is to have one last great night on the town, picking up girls, having sex, and street racing. There have been many films made that are similar to this concept, but George Lucas directs this in ways that I never would have seen coming. The characters are loveable, the premise is relatable, an the era of the 1960's was captured with perfection. The retro feel of the entire movie had a smile on my face. Still, it feels a little too long and some of the dialogue is corny. Overall, "American Graffiti" is a classic teen dramedy that everyone can relate to. It's terrific entertainment!
American Graffiti Quotes
| | |
| --- | --- |
| Debbie: | Besides, it only took me one night to realize if brains were dynamite you couldn't blow your nose. |
| | |
| --- | --- |
| Carol: | Your car is uglier than I am. That didn't come out right. |
| | |
| --- | --- |
| Curt Henderson: | I'm telling you this was the most perfect, dazzling creature I've ever seen! |
| Steve Bolander: | She's gone. Forget it. |
| Curt Henderson: | She spoke to me, she spoke to me right through the window. I think she said I love you...That means nothing to you people?...You have no romance, no soul?...Someone wants me. Someone roaming the streets wants me...Will you turn the corner? |
| Curt Henderson: | She spoke to me, she spoke to me right through the window. I think she said I love you. That means nothing to you people? You have no romance, no soul? Someone wants me. Someone roaming the streets wants me. Will you turn the corner? |
| | |
| --- | --- |
| Steve Bolander: | Do you want to end up like John? You just can't stay 17 forever! |
| Steve Bolander: | You wanna end up like John? You just can't stay seventeen forever. |