American Heart
(1992)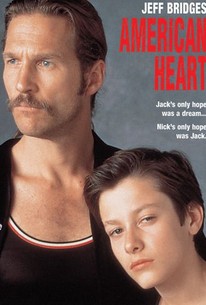 Movie Info
Following up on Streetwise, his powerful documentary on the homeless kids of Seattle, director Martin Bell returned to that city for a dramatic feature. Nick Kelson (Edward Furlong) is a troubled teenager whose mother has been dead for many years; he spends much of his time with other throwaway kids roaming the city. When Nick's father Jack (Jeff Bridges) is released from a long stretch in prison, the father and child reunion is a bumpy one. Jack senses an obligation to his son but is trying to focus on taking responsibility for his own life before he can extend himself. Nick is wary of his father's criminal background, but he also craves the stability of a real home life. Aware that a return to the city whose mean streets spawned his criminal career might pull him back into his old ways, Jack talks about moving to Alaska to make a fresh start, but it's not clear if Nick is part of his plan. The film's unsentimental look at its characters always on the verge of backsliding didn't endear it to ticket buyers, but it was lauded by many critics for its honesty and for Bridges' strong performance, which won an Independent Spirit award.
Critic Reviews for American Heart
Audience Reviews for American Heart
An ok movie. Edward Furlong was good, as usual...
Cynthia S.
Super Reviewer
An ex-con with dreams of starting a new life reunites with his son. In 1993 it was impossible to view this as I see it now: Jeff Bridges was practicing for his role in Crazy Heart. Everything that is good about Bridges's Oscar-winning performance is in American Heart, the music, the quiet desperation, the emotional depths to which he sinks, and of course, the hair. Edward Furlong, whose voice seems untutored but natural, matches Bridges in intensity. However, I thought that the story was predictable and the plot contrived. You know the ending as soon as you meet Rainey, and the film doesn't tell us anything new about troubled youth. Overall, the highlights are the stars, who give emotional and committed performances.
Jim Hunter
Super Reviewer
Edward Furlong is one of my favorite actors. Jeff Bridges is one of the top actors in Hollywood, and while not on my top 10 list, he's still a brilliant actor. So, American Heart should have been an awesome film! I knew from reading reviews, that it was gonna be strange, but while most people liked it, I did not! The story follows an ex-con trying to restart his life, and his estranged, runaway son, that he just can't get rid of. The background is great, but the film sucks, seriously all you see is these people going about their everyday business! Nothing really happens, you feel no connection to the characters whatsoever, and there is really no reason to care about what is happening!? Just go follow two random people on the street for a couple days and watch them go about their everyday life and you'll know what this awful film was like.
Todd Smith
Super Reviewer
American Heart Quotes
| | |
| --- | --- |
| Jack Kelson: | Things are goin' be different for you. |
| | |
| --- | --- |
| Jack Kelson: | I don't know if I can help the kid. I don't know if I have anything good to give him. |
| | |
| --- | --- |
| Jack Kelson: | You keep me straight, I'm tryin' to keep you straight. |
| | |
| --- | --- |
| Jack Kelson: | I'm just trying to do for you what nobody did for me. |