American Madness
(1932)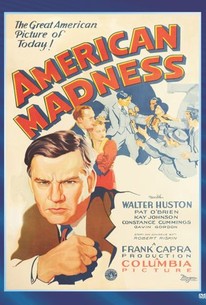 AUDIENCE SCORE
Critic Consensus: No consensus yet.
Movie Info
A decent, charitably minded banker who's loaned money to businesses all over town is put through the ringer by his stern board of directors in the midst of personal problems, a robbery and a run on the bank. This swiftly paced, well-written little drama possesses seeds of later Frank Capra themes.
Critic Reviews for American Madness
All Critics (4) | Fresh (4) | Rotten (0) | DVD (1)
Though preachy, Capra's film zips along at breakneck speed and always pleases.
Early Capra has the extra bonus of documenting its time.
November 20, 2003 | Rating: 5/5
Audience Reviews for American Madness
[font=Century Gothic]In "American Madness," the board of directors of the Union National Bank are trying to foist a merger on the bank president George Dickson(Walter Huston), fearing a lack of funds. Dickson flatly refuses, saying that money is badly needed to be in circulation to keep businesses running which keep the economy healthy.(Sound familiar anyone?) For men like Dickson, it is a matter of faith which he has also shown in hiring men like Matt Brown(Pat O'Brien) who has a criminal record. At the same time, one of his other employees, Cluett(Gavin Gordon), has developed a serious gambling problem and gotten in desperate trouble with some gangsters. Dickson's dedication to his bank is admirable but it is constantly frustrating for his wife(Kay Johnson) who is afraid he may have forgotten their anniversary again.[/font] [font=Century Gothic][/font] [font=Century Gothic]"American Madness" is a breezy and fast-talking movie that a like a lot of Frank Capra's other movies is couched in a very civic minded message that asks the public to be calm and to have faith in troubled times, because there are plenty of good men like George Dickson out there. Except this is one of Capra's better films with a climax that has to be seen to be believed.[/font]
American Madness Quotes
There are no approved quotes yet for this movie.