American Mary
(2013)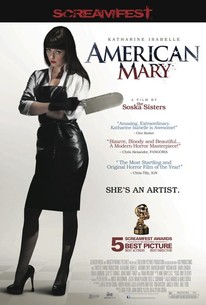 TOMATOMETER
AUDIENCE SCORE
Critic Consensus: It suffers a bit from some uneven acting and an underwhelming climax, but American Mary utilizes pitch black humor and striking visuals to deliver gory, freaky thrills for body horror enthusiasts.
Movie Info
"Twisted Twins" Jen and Sylvia Soska are back with their stunning follow-up to the indie hit Dead Hooker in a Trunk. AMERICAN MARY is the story of a medical student named Mary who is growing increasingly broke and disenchanted with medical school and the established doctors she once idolized. The allure of easy money sends a desperate Mary through the messy world of underground surgeries which leaves more marks on her than the so-called freakish clientele. Appearances are everything. (c) Xlrator
News & Interviews for American Mary
Critic Reviews for American Mary
Audience Reviews for American Mary
There is something just so bloody good about a horror film that is nice and gory. "Ginger Snaps" alum Katharine Isabelle returns to the big screen as a medical student named Mary. Barely destitute but desperate, Mary answers an ad for a strip club, but is interrupted to perform surgery for a large sum of money. She begins in this vein as a very innocent and frightened young woman, who doesn't understand the world she is thrust into, but a thirst for revenge quickly spirals her into a realm of darkness and fury. This film screams for me to love it, and I do easily, thanks to its insatiable blood fest, grotesque imagery of surgeries, Katharine Isabelle's cold and conniving performance as Mary, and the exploitative antics onscreen. Her professor (Lovgren) is probably the most gnawing thing about this film, because his behavior is insufferable, and his warped sense of entitlement over his students is just not realistic. I know we're supposed to hate him and that's the reason why he is designed in that way, but he's just so blatant about it. Mary changing to a bloodthirsty horror villain over his crime seemed a bit extreme. The ending was also anticlimactic for the story set up, and came out of nowhere. Otherwise, this film brutally entertains, and does so with all the lust and plasma it can muster.
Spencer S.
Super Reviewer
The Soska Sisters are twisted indeed. With American Mary, they depict a struggling grad student who gets pulled into the nasty world of body modifications. Neglected and abused by the surgeons she hoped to one day become, Mary creates an American Dream of her own depraved creation, and the resulting film is disturbing, incredibly well acted, and absorbing right through to its anti-climax.
Edward Boxler
Super Reviewer
½
Not sure what I just watched, or if it made sense. Or if I liked it. Katherine Isabelle is compelling and the Betty Boop lookalike fascinating in a horrible way. Some really awful plastic surgery on show here. Took my breath away at times.
Nicki Marie
Super Reviewer
American Mary Quotes
There are no approved quotes yet for this movie.