American Movie
(1999)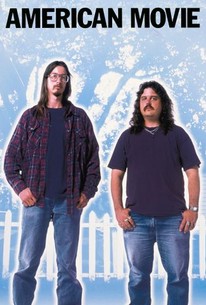 TOMATOMETER
AUDIENCE SCORE
Critic Consensus: Well worth watching for film buffs and anyone who believes in following your dreams, American Movie is a warm, funny, and engrossing ode to creative passion.
Movie Info
An account of a Midwestern filmmaker's effort to make an independent picture. Mark Borchardt is passionate about cinema, and his dream project is a film called "Northwestern". But he is serious debt, and decides that if he finishes his horror short "Coven", he will be able to finance his masterwork with the money he'll raise from video sales. His attempts to follow this plan involve his 82-year old uncle, his girlfriend and a series of dreadful jobs, but Mark will never give up.
Critic Reviews for American Movie
Audience Reviews for American Movie
A midwestern independent filmmaker marshals his friends to produce his horror film, Coven, a title that he decidedly pronounces "Coe-ven". What word means the opposite of "inspiring?" I suppose it's "discouraging," but that doesn't quite capture how this film makes me feel. Oftentimes, I get a paroxysm of courage that tells me to "just make the damn movie; use your iPhone if that's all you have." But this film casts a shadow of doubt over such moments because I fear that I could look as foolish and incompetent as Mark Borchardt, whose limited cinematic vision, failure to understand basic story-telling concepts, and utter lack of self-reflection are only eclipsed by his self-assuredness and courage. He's no doubt an idiot, but he's an idiot who fashions himself an artist, and there are lower ambitions that a man might set himself to. American Movie is Borchardt's story, and your patience with his brash, over-taxing ambition will determine your patience with the film. For my part, I found him pitiable and my viewing of the film uncomfortable. Overall, this documentary serves as an unwelcome mirror for those who fashion themselves artists; I only wish it were required viewing for all Hollywood execs as well.
Jim Hunter
Super Reviewer
½
The story of an amateur film director in the suburbs of Milwaukee who can never seem to catch a break, this documentary follows three years in the life of Mark Borchadt as he tries to make his magnum opus "Northwestern" and has to settle for a long forgotten short film, "Coven." Borchadt is the definition of a real life character, flitting between disengaged sad sack and auteur, all the while hanging with his mousy friend Mike and his uncle and financier, Bill. The clods show the extent of their film directing, editing, and other veritable skills, not only indicating the difficulties with the constraints of budget, the tumbling down of personal finances, but costuming, cast, and staying true to your original vision. For all of the tottering examples of Borchadt's clumsy directing and the way he speaks with such naiveté about his own ambitions, he has some deep seeded talent. He is very intelligent, shown throughout the film in interviews with his family, the way Chris Smith shows his history, and in the passionate verse that Borchadt spills forth between the early nineties' slang and expletives. Listening to Borchadt it's obvious he is steeped in nineties' culture, loves the art of moviemaking akin to Fellini, and yet speaks as slow and churlishly as a grumpy Winston Churchill. His Uncle Bill is twice as bad and three times as negative about Borchadt's movie making prowess. It's saddening to see the obstacles that Borchadt has to overcome, how in debt he is, how close he is to his children and yet fights tirelessly with his ex-girlfriend, how opinionated he is and yet no one seems to agree with him. Even his good friend Mike, who is a recovering drug addict and flaming guitarist doesn't always see the truth behind his friend's vision. The film is slightly whimsical while remaining close to its subject. Chris Smith does an exceptional job of continuing the story until Borchadt finally finishes his film, watches the irretrievable moments with care, and finds conflict and resolution easily enough. Just an amazing film about a captivating individual.
Spencer S.
Super Reviewer
I think Ebert said it best when he stated that all people who want to make movies need to see this before hand. It's a pretty good piece of advice, and even for those of us who have messed around with a camera before seeing this movie can still relate in some capacity to what it's like trying to make a movie when your ambitions and ideas are far outweighed by the realities of trying to eek out a meager existence and deal with all that reality is throwing at you. That is the set up for this little tragicomedic documentary American Movie. Mark Borchardt is a blue collar guy with an intense passion for films with a strong desire to make it big as a filmmaker. He's in his late 20s, lives in a small town in Wisconsin, works a series of dead end jobs, comes from a poor background, he dropped out of high school and spends most of his time farting around drinking and what not, but, even then, without the necessary means (primarily money, but also a strong cast and crew) he is determined to keep all of that, plus mounting bills and other personal issues from preventing him from making his great American film. The doc starts with him trying to make his magnum opus feature Northwestern- a project that had been in the works for quite some time. When it ultimately falls through, he decides instead to go back and finish a short of his he never completed called Coven. The rest of the tilm follows him and the other colorful characters he enlists to help him do just that. The result is a very honest portrait of the American dream being worked out in the face of great adversity and much delusion. Mark is a guy that is both sympathetic and unlikeable all at once. You eant to root for the guy because he's just so darn driving, but he's also rather pathetic since he just can't seem to get htings to realistically pan out the way they do in his mind. In a way, this is such an odd film that it is hard to believe that it is a legit documentary instead of a Spinal Tap-ish mockumentary. There's lots of wacky and wild people here besides Mark, with probably the most funny/sad being his blissfully burnt out best friend Mike and Mark's aging and decrepit Uncle Bill who is reluctant to give his nephew any of his money since he's struggling to produce any real results. It's that last bit especially that I can relate to personally that really stung for me, and made some already difficult to watch stuff more so. In fact, I'm really amazed and inspired by Mark for havign the guts to allow Chris Smith to film and show some of the stuff that he does. I said this was an honest film, and I wasn't kidding. This is a really unflinching and genuine look at a guy who, I feel bad saying it, but is a loser who hasn't amounted to much, and may never will. Since the release of this film, Mark has gone on to get a bit more aclaim and attention, not as a director, but as an actor. Northwestern is STILL unfinished, but even though I don't always have positive feelings about him, I do wish Mark luck, and have some respect for him, because god knows I'm a lot like him in some ways, so I don't have too much of a right to rip on him. All in all, this film, and its subject are very much on the level of Ed Wood, though, I do think Borchardt is a tad more competant. Do yourself a favor and watch this film. It's alternately heartbreaking and hilarious, and some very touching and inspiring stuff.
Chris Weber
Super Reviewer
American Movie Quotes
| | |
| --- | --- |
| Himself: | Kick f***in' a** I got a Mastercard! Life is just cool sometimes. |
| Himself: | I got a Mastercard! Life is just cool sometimes. |