American Pastime
(2007)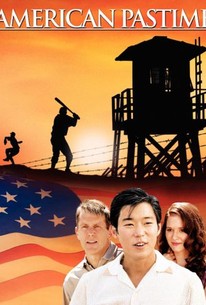 Movie Info
Gary Cole, Aaron Yoo, John Gries, and Judy Ongg star in an inspirational small town drama exploring the lingering effects of World War II on Japanese-American citizens struggling to overcome lingering hostilities and be accepted in country they now call home. The Nomuras are a typical American family who just happen to be of Japanese heritage. When World War II breaks out and the Nomuras are ushered into the Topaz internment camp, teenage son Lyle (Yoo) becomes the target of harassment to camp guard and frustrated minor league catcher Billy Burrell. Lyle is a star pitcher who had been accepted into college on a baseball scholarship, but was subsequently forced to abandon his dreams when his family was interned. Billy's daughter is a musical instructor at the camp, and when she and Lyle strike up a tenuous romance, tensions quickly come to a head between the two families. Hoping that the two families will be able to find a common ground due to their mutual love of baseball, Lyle's father proposes a goodwill game between Burrell's team and the internees. As the two teams take to the diamond for a game organized to unite them all, the small town's tolerance will be put to the ultimate test in a match that reveals the true spirit of American culture.
Critic Reviews for American Pastime
Audience Reviews for American Pastime
I am a complete sucker for these kinds of movies. This movie touches the heart. It is a good reminder that the American-Japanese went through a hard time during WWII, not just the Jews. Though America was not so harsh on Japanese, as Germans were to the Jews, they still deserve recognition for their plight. Add a little baseball rivalry, forbidden romance, and questions of honor to this story, and we have a nicely done little film...
Cynthia S.
Super Reviewer
American Pastime Quotes
There are no approved quotes yet for this movie.