American Pie Presents: Book of Love
(2009)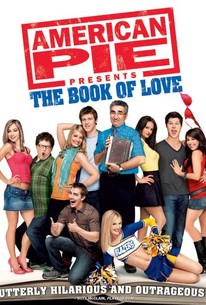 AUDIENCE SCORE
Critic Consensus: No consensus yet.
American Pie Presents: Book of Love Photos
Movie Info
Three East Great Falls High virgins stumble across the mythical "Book of Love," and vow to use the wisdom contained therein to bed the hottest girls in school. Unfortunately the book is in a bad state of disrepair, and in order to reconstruct it the three pals will need to seek the advice of Jim's Dad (Eugene Levy), one of the original authors of the treasured tome.
Critic Reviews for American Pie Presents: Book of Love
Audience Reviews for American Pie Presents: Book of Love
I dont see movies with certain covers. like where a bunch of people are standing around looking excited about something, but we dont know why. and girls have their arms around guys in a way that they would only do if they knew they were on a movie poster. And anytime you have to explain that theres a "hilarious journey" in the synopsis, its not funny. Other than that though i was pretty psyched about American Pie 7. EDIT: I realized that i dont actually know if this is American Pie 7 or 8 due to the fact that they dont wait very long to film a new hilarious journey of some 3 stupid kids who like to fuck fruit and dogs and pies plus one of Stifler's many annoying cousins who somehow all get chicks and whether this is 7 or 8, it didn' t seem to matter cause i saw it anyway and i realize how much i took Sean William Scott for granted. wow. he probably should have won like a best supporting actor oscar, am i right?
Coxxie Mild Sauce
Super Reviewer
This is the worst series of American Pie. Stifler (played by John Patrick Jordan) is a complete waste in this movie, actors are not gorgeous or at least beautiful or at least pleasing, this version has severed the fame of American Pie brand and a huge disappointment to plenty of teen comedy lovers.
Dean McKenna
Super Reviewer
½
Wow It's been ten years already...can you believe it? LOL! I am still going to stay with the original formula with this one...Sequels are not exceeding the previous success at all! There was only ONE scene that was hilarious and the Steiffmaiester still rules! LOL! The original cast would have sealed the deal in this one. Try and get this one as a freebie from someone somewhere...LOL!
Fascade Fiveoneeight
Super Reviewer
American Pie Presents: Book of Love Quotes
There are no approved quotes yet for this movie.