An American Werewolf in London
(1981)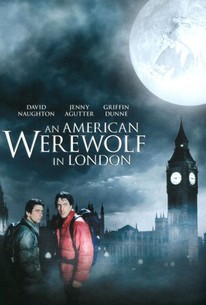 TOMATOMETER
AUDIENCE SCORE
Critic Consensus: Terrifying and funny in almost equal measure, John Landis' horror-comedy crosses genres while introducing Rick Baker's astounding make-up effects.
An American Werewolf in London Videos
An American Werewolf in London Photos
Movie Info
While wandering the English moors on vacation, college yanks David (David Naughton) and Jack (Griffin Dunne) happen upon a quaint pub with a mysterious patronage who warn them not to leave the road when walking after dark. Irreverent of such advice as characters in horror films always are, the two decide to find a short cut....David wakes up in the hospital with a nasty bite wound to his shoulder; the freshly deceased, and rapidly decomposing, Jack arrives soon after to deliver the grim news that, unless he commits suicide, David will become a werewolf when the moon is full. David dismisses the encounter as a hallucination, but all indicators point to lycanthrope; evenings of barking and bloodletting follow closely behind. While the story is thin and much of the tongue-in-cheek humor is overdone, there are plenty of genuine jolts thanks to makeup guru Rick Baker's eye-popping special effects. The werewolf, resembling a cross between a bear and a wolverine, appears frighteningly real, and, given the fantastic premise, the gore is most convincing (although surprisingly and refreshingly scant). The hospital dream sequences are creative, and the scenes in which the werewolf runs rampant through downtown London are particularly good. In all, An American Werewolf in London is an original, atmospheric film that manages both to scare and amuse. While dismissed by most American critics upon its release, the film managed to secure a place in the annals of American cinema when Baker won an Academy Award for his amazing effects and creature designs. ~ Jeremy Beday, Rovi
Critic Reviews for An American Werewolf in London
Audience Reviews for An American Werewolf in London
These excessively gory horror films of the 1980's have either been extreme turn on or off for me. "An American Werewolf in London" is a definite plus to it's genre. Helming some genuinely creepy practical effects and some fantastic gore, this is one horror film that will never feel dated. As two friends arrive in London, they are attacked by a wolf. While one comes back as a zombie, the other must face the fact that he will turn into a werewolf at each moon's first light unless he kills himself. With a dark story, there are some very charming moments peppered throughout this picture. I had a blast watching this film and I would highly recommend it to any horror fans out there. With a script you don't have to take too seriously and direction that is clearly poking fun while staying creepy, "An American Werewolf in London" is great! If I had to fault it, it would be the fact that it takes far too long to build up to the conclusion. Overall, it is a very fun time.
A werewolf movie turned into a comedy. It's a very original idea that cinema had never been seen before. Werewolf in London couldn't have done it better. It had the feeling of a classic black and white horror movie and the make up is absolutely outstanding. As it's among the best ever crafted. Not so much a scary film by modern standards but with a mix of black humour, light hearted comedy and likable characters it deserves its ultimate cult status.
Directors Cat
Super Reviewer
½
This is classic stuff here, its faultless, effects are awesome, note the legendary transformation scene in Agutter's flat completely done without cgi using REAL skills and craftsmanship. The whole thing is macabre, spooky and funny, its also pretty scary here and there, the Nazi demon dream sequences make you jump haha whilst the ending is a gore fest, love it, an adult 'Beetlejuice'. Bluuuue Moooon
Phil Hubbs
Super Reviewer
An American Werewolf in London Quotes
| | |
| --- | --- |
| David Kessler: | I'm a werewolf. |
| Alex Price: | Are you alright? |
| David Kessler: | I don't know, I'll let you know the next full moon. |
| | |
| --- | --- |
| David Kessler: | Queen Elizabeth is a man! Prince Charles is a faggot! Winston Churchill was full of shit! Shakespeare was French! Fuck! Shit! Cunt! |
| | |
| --- | --- |
| David Kessler: | Be rational, sure...I'm a fucking werewolf for Christs Sake! |
| | |
| --- | --- |
| David Kessler: | Look at me, sitting in a porno theather in Piccadilly Circus talking to a Corpse! |