An American Werewolf in Paris
(1997)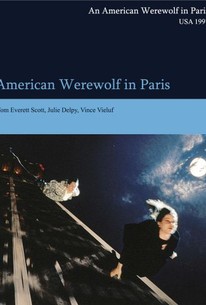 TOMATOMETER
AUDIENCE SCORE
Critic Consensus: Markedly inferior to its cult classic predecessor in every way, An American Werewolf in Paris is felled by the silver bullets of clumsy storytelling and chintzy special effects.
An American Werewolf in Paris Photos
Movie Info
Anthony Waller (Mute Witness) wrote and directed this horror comedy follow-up to An American Werewolf in London (1981) with the focus now on the lycanthropic misadventures of the wolf daughter (Julie Delphy) of the couple (Jenny Agutter, David Naughton) seen in the earlier movie. Filmed in Paris (Louvre, Metro, Seine, and an Eiffel Tower bungee jump) and Luxembourg.
Critic Reviews for An American Werewolf in Paris
Audience Reviews for An American Werewolf in Paris
Hmmm not too bad, the wolf effects are very poor cgi which makes the wolf look like its sick and losing weight. The gore is great and the concept is OK despite being a complete rerun of the first but its the look and feel of the film which still just about manages to win. The film still has the originals appeal with its kooky black humour and macabre sequences but main lead Scott is a bit weak along with the rest of the cast.
Phil Hubbs
Super Reviewer
½
An American Werewolf in Paris is an insult to Jon Landis's landmark film. This film features nothing to redeem it's stupidity. The film is simply a washed out version of Landis' classic Werewolf film. The film has some very bad CGI effects, and it has a terrible cast to act out the dreadful scenes. This is one film that should be avoided, it's not even a decent film. This film is a poor excuse to cash in on An American Werewolf In London, now that was a werewolf picture. This film is pure and simply a travesty and is not worth your hard earned money. They could've done something great maybe if Jon Landis and Rob Baker were involved in the project, but instead they hired a hack of a director to market this brainless piece of crap to a "hip and cool" generation of teens. What a waste of money, and Celluloid, the only way this film could have been great was with a rewrite and Jon Landis helming the project. Nothing new to be found here, just a headache of a film.
½
Not near as serious as "in London", and had quite a few lame jokes. But in a mood like "The Frighteners" it was horror comedy that you can still enjoy. The monster effects waver from cool to really lame CGI. Worth it if you're feeling really lazy and there is nothing else to watch on your streaming video.
Curtis Lilly
Super Reviewer
An American Werewolf in Paris Quotes
| | |
| --- | --- |
| Andy: | There's sex and there's love...That what differentiates humans from animals. |
| Andy: | There's sex and there's love. That what differentiates humans from animals. |
| | |
| --- | --- |
| Claude: | I LOVE Americans. You all have a good taste. |
| | |
| --- | --- |
| Andy: | I didn't choose to become a werewolf. I can't face the fact that I've got to go around killing and eating people for the rest of my life. |
| Brad: | Better get used to it. |
| | |
| --- | --- |
| Serafine: | (to Andy, about her zombie mother) - You scared her away. |
| Andy: | (frightened) - I scared her?! HA! [Panting] ...That's it. My friends were right: You're nuts. Nurses with walking corpses stealing hearts, and monsters and werewolves in the basement and the whole thing with the thing... |
| Andy: | (frightened) - I scared her?! HA! [Panting] That's it. My friends were right: You're nuts. Nurses with walking corpses stealing hearts, and monsters and werewolves in the basement and the whole thing with the thing. |