American Zombie
(2007)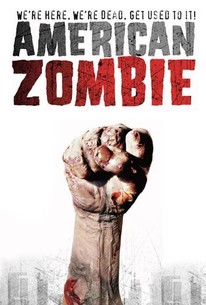 Movie Info
As the walking dead fill the streets of Los Angeles, filmmakers John Solomon and Grace Lee turn their cameras on the misunderstood flesh-eaters, their fierce proponents, and their staunch opponents to offer a glimpse of just how society has changed in the wake of the zombie uprising.
News & Interviews for American Zombie
Critic Reviews for American Zombie
Audience Reviews for American Zombie
½
Is it just me or is the whole mockumenatary thing wearing a little thin? This has a few enjoyable quirky moments but overall it never really takes flight. Starting from the top, I thought the concept was great, the acting was good, but the collective quality of the material never rises above 'passively interesting'.
Randy Tippy
Super Reviewer
This makes Land of the Dead look Like Diary of the Dead, which still isnt saying much.
James Alvarez
Super Reviewer
½
I REALLY hate when a movie is so middle of the road in quality that I struggle with what I want to say about it. I do know that I had high hopes for this film for many reasons. The satirization of zombie movies has hit a peak this decade, and I expected another whopper to add to the list. I also thought it might be more insightful on the genre, and do for zombies what Behind the Mask: The Rise of Leslie Vernon did for slashers. Also, whenever you title something American ___dadada____ it had better be damn good. It's interesting how these zombies fit into normal society, but that's where the entertainment ends. Very minimal makeup, nothing for zombie fans to see here. Very stereotypical acting for a mockumentary that seems too influenced by 'The Office' (talkin Gervais and Merchant as well as the American bastardization) and doesn't feel realistic or fresh at all. Nice shooting for a handicam, but mind you this is supposed to be a professional documentary crew. There's nothing exceptionally BAD, but there's nothing exceptionally good or worth remembering. The movie does paste the zombie onto the pattern of oppressed groups and common problems within oppressed minorities well enough. But there's not any horror to justify the utter lack of comedy, and vice versa. Just lukewarm and leaving one with an "you could have done so MUCH better" feeling, as this movie packs more promise than your typical Z-budget, but delivers just as little. A once watch for zombie fans MAYBE. I can't recommend this to anyone however, and I would never screen it to anyone. It's paradigm middleness earns its a 2.5 but overall the production rates a 3 and the acting isn't atrociously but also around a 3. The separation between this film's potential and what is achieves is so great a gap that I can't in good mind give it a 3.
_kelly .King
Super Reviewer
American Zombie Quotes
There are no approved quotes yet for this movie.