The Amityville Horror
(2005)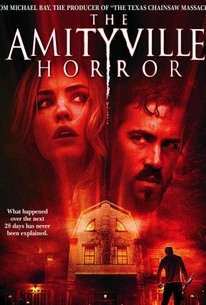 The Amityville Horror Photos
Movie Info
Based on an account from a Long Island man, a tale that centers on George and Kathy Lutz, a newly married couple with three children, who move into their stately, beautiful new house in Amityville, NY --only to discover that the house already has demonic inhabitants. Unbeknownst to the couple, a multiple murder took place at their house, many years prior.
Cast
Critic Reviews for The Amityville Horror
Audience Reviews for The Amityville Horror
½
What is the point of remaking a bad horror movie if you can't make it any better or scarier? In fact, this awfully formulaic remake doesn't manage to be scary at all, since it only reuses the most obvious clichés of the genre and seems like an uninspired copy of The Shining.
Carlos Magalhães
Super Reviewer
Remake of the classic haunted house horror film of the same name is an awful mess of a film that is uninspired and poorly acted. This came out at the height of the remake craze and like every other remake; it failed to capture the essence of the original film. The story suffers from a poor script that offers nothing of note and it only boasts cheap scares that are only mildly entertaining. Overall this is a dreadful film that if you take those scares away, there's nothing here to enjoy and the film falls apart very rapidly due to its cast and poor plot. In the broader picture, this remake was unnecessary and it doesn't have anything to entertain the viewer. The choice of the actors playing the parts is horrible, and brings no on-screen presence to really make this film standout. Director Andrew Douglas can't seem to be able to direct a fluent, well paced film that really manages to terrify. This is one film that only relies on jump scares to scare you, and time and time again you find yourself more bored than enjoying yourself due to the fact that it is a poorly constructed horror film that doesn't offer anything remarkable for genre fans looking for something really interesting to watch. Avoid this film, you'll be glad you did, and in terms of remakes, this is among the worst that I've seen with no thought on truly effective material to really make it a fun and entertaining horror yarn. This is yet Hollywood trying to make a quick in order to attract a new audience that can't seem to understand what real horror is all about.
Ryan Reynolds plays a great role in this and it never fails to scare me everytime I watch it.
Bethany Murphy
Super Reviewer
The Amityville Horror Quotes