Amityville: The Evil Escapes
(1989)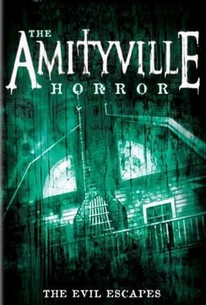 AUDIENCE SCORE
Critic Consensus: No consensus yet.
Amityville: The Evil Escapes Photos
Movie Info
It's good-bye Long Island and hello to the Bay State as the spooks from Amityville head to California. In this made-for-TV issue, an exorcist is called to put a stop to all the extra-ordinary happenings going on.
Critic Reviews for Amityville: The Evil Escapes
All Critics (3) | Fresh (0) | Rotten (3)
Credit where credit's due: it most have taken some work to make "floor lamp possessed by demons" even more ridiculous-looking than it sounds.
Why does this series keep passing building codes?
June 7, 2005 | Rating: 1/5
Audience Reviews for Amityville: The Evil Escapes
Amityville IV: The Evil Escapes is one of those sequels that is over the top, but not as bad as others in the series. Acting wise this film still lacks big time, and is pretty stupid. Story wise, you're to be disappointed due to a poorly written script that offers nothing truly engaging and memorable for the viewer. This is a made for TV film and it shows in terms of lacking effective thrills, good story and above all, good acting. This film could have been a lot better than what it turned out to be and if given the right amount of attention, I think that the film could have been much better as well. The film leaves a lot to be desired and it is pretty bad, however it is not as awful as the other sequels that would follow in this lack of creativity series, I say that because the filmmakers would struggle to try and create something entertaining, but would fail miserably. This fourth film is very bad, and it has some pretty stupid moments as well. The premise of the lamp was too tongue in cheek to comprehend, and whoever thought that it would make for a great horror film was sadly wrong. This is a bad film that is poorly constructed and offers nothing to appeal to genre fans looking for a great horror yarn. This may be an ok film to watch for a bad movie night along with the other sequels, but as it stands, this one isn't worth your time. This was really the start of the creative downfall of the series, and more dreadful films would plague this franchise that never should have happened.
Shockingly bad and predictable, and this is not the end of the series. Instead of having a haunted house, this time we have a haunted object: A Lamp, yes, A frigging Lamp.
Sylvester Kuo
Super Reviewer
To be honest I don't mind the Amityville films. This fourth film in the series has the evil demon move across from Long Island to California via a creepy looking lamp which it has transferred into ready to torment another family. It's not great but it has enough entertaining moments to enjoy and it moves along at a good pace. If you didn't enjoy any of the previous Amityville films then avoid this one.
Amityville: The Evil Escapes Quotes
There are no approved quotes yet for this movie.