Amnesia: The James Brighton Enigma
(2005)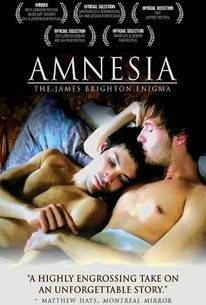 AUDIENCE SCORE
Critic Consensus: No consensus yet.
Movie Info
Inspired by true events, Amnesie: L'Enigme James Brighton tells the story of James Brighton, an American man found naked in a Montreal parking lot with no memory of who he is besides his name, and the fact that he is gay. A gay advocacy group launches a campaign to track down James' identity, and police administer numerous medical tests to uncover the root of his amnesia but after three months, there is no information either on James' identity, or on the cause of his memory loss. Finally, a family from Tennessee recognizes James' face from the media and comes forward claim him -- except his name isn't James Brighton, it's Matthew Honeycutt. The young man was soon arrested for committing fraud by faking his amnesia, but many remain uncertain about the truth behind Honeycutt's claims. A year later, fascinated by the case, a student in criminology named Sylvie begins to study it, only to discover that even her own identity is becoming elusive. ~ Cammila Collar, Rovi
Critic Reviews for Amnesia: The James Brighton Enigma
All Critics (3) | Top Critics (1) | Fresh (2) | Rotten (1)
Amnesia: The James Brighton Enigma ekes middling results from a fascinating storyline.
June 28, 2006
A little clunky and stiff, although the sheer outrageousness of the central puzzle keeps us riveted.
... a multi-layered film that goes far beyond narrative and deep into the universal human conundrums of purpose, pain and pride.
Audience Reviews for Amnesia: The James Brighton Enigma
Even though it's clearly filmed on a low budget and the acting is a bit iffy, the story behind Amnesia remains gripping and engrossing stuff. I find it fascinating that someone who has lost the memory of themselves and any people they might know can still be aware of their sexuality, and I'm sure this is more proof (not that I think proof was ever needed) that one does not and cannot *choose* their sexuality. The reasons behind James' amnesia are both moving and believable and the film's open-ended 'conclusion' is perfectly pitched. A powerful film.
Daniel Parsons
Super Reviewer
Amnesia: The James Brighton Enigma Quotes
There are no approved quotes yet for this movie.