Amores Perros
(2001)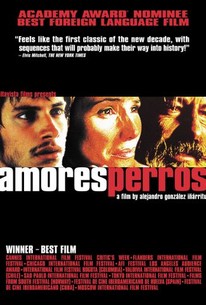 TOMATOMETER
AUDIENCE SCORE
Critic Consensus: The brutality of Amores Perros may be difficult to watch at times, but this intense, gritty film packs a hard wallop.
Movie Info
Three stories of life along the margins in Mexico City converge in this inventive thriller. Octavio is sharing an apartment with his brother, which leads to a serious problem when he falls in love with Susanna, his sister-in-law. Octavio and Susanna want to run away together, but Octavio has no money. He does, however, know a man who stages dog fights, and he volunteers his dog Cofi for the next round of fights. Cofi bravely rises to the occasion, but the dog's success in the ring leads to a violent altercation. Elsewhere, Daniel, a successful publishing magnate, leaves his family to take up with a beautiful model, Valeria. Valeria, however, soon loses a leg in an auto accident, and as Daniel tends to her needs, her tiny pet dog gets trapped under the floorboards of their apartment. And finally, El Chivo (Emilio Echeverria) is an elderly homeless man who is trying to contact his daughter, whom he hasn't seen in years. Desperate for money, El Chivo is hired by a businessman to assassinate his partner; however, as he's following his target, he's interrupted by an auto accident, from which Octavio and his injured dog stagger in search of help. Amores Perros (aka Love's a Bitch) was the debut from director Alexandro Gonzalez Inarritu.
Critic Reviews for Amores Perros
Audience Reviews for Amores Perros
½
A 'Pulp Fiction'-esque film dealing with several characters and how they are all interconnected amongst the dirty, bleak streets of Mexico City, where dogfighting is common and how a vicious car crash wrecks the lives of those involved. Director Alejandro Gonzalez Inarritu is a very skilled director whose stories are usually intense and very dramatic, and this is as big and successful and opening film as any director out there has ever had. The way he weaves his stories together despite starting them out completely separate from each other, combined with how he paces his film and makes 150 minutes seem like an hour and a half film, is nothing short of incredible. There are a few instances of over-acting and a few questionable turns in the story, but asides from this is an absolutely gripping piece of cinema that must not go unseen.
Dan Schultz
Super Reviewer
½
After a dog-fighter crashes into a supermodel, the film depicts each person's story. Alejandro Gonzalez Inarritu's films never surpassed this, his first effort. An extraordinarily well-told story, Amores Perros reaches the Altman Standard for intersecting stories. Linked by the themes of love and dogs and love of dogs, each story is compelling in its own way, especially the final chapter, which takes advantage of a phenomenal performance by Emilio Echeverria. What I found disappointing was the ending of the second story, which seemed to come to a depressing conclusion without substance. The same can be said of the first story's ending, but the final moments of the film, which conclude the third story, make up for many of the film's deficiencies as a whole. Overall, Amores Perros is a fantastic debut for a rightfully internationally acclaimed filmmaker.
Jim Hunter
Super Reviewer
½
Love's A Bitch is a multi-layered and well-articulated mock to humanity's understanding of loyalty. Violent and profound. Aggressive and cruel. Prodigious.
Jan Marc Macababayao
Super Reviewer
Amores Perros Quotes
| | |
| --- | --- |
| El Chivo: | Get yourself comfortable. If you need anything just call me. |
| | |
| --- | --- |
| El Chivo: | I don't need your money asshole. |