An Adventure in Space and Time
(2013)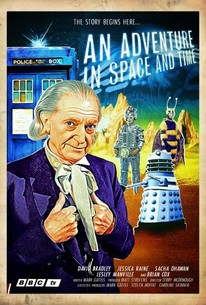 TOMATOMETER
AUDIENCE SCORE
Critic Consensus: Fun, clever, and eminently accessible, An Adventure in Space and Time offers entertaining viewing for Doctor Who newcomers and diehards alike.
An Adventure in Space and Time Photos
Movie Info
What do you get when you mix C.S. Lewis with H.G. Wells, and sprinkle in a bit of Father Christmas? An alien Time Lord exploring space and time in a Police Box spaceship called the "TARDIS" (Time And Relative Dimension in Space). On November 23, 1963, a television legend began when the very first episode of Doctor Who was broadcast on BBC One. Fifty years later, the genesis story is retold in a new BBC AMERICA co-production film celebrating the 50th anniversary of the franchise, An Adventure in Space and Time. -- (C) BBC America
Critic Reviews for An Adventure in Space and Time
Audience Reviews for An Adventure in Space and Time
I admit that I never watched one episode of Dr.Who because I always thought that they were simply not good enough. I say that after watching An Adventure in Space and Time, this amazingly refreshing British television drama produced to celebrate the 50th anniversary of the science fiction series, I will revisit the first episodes of Doctor Who. To make a movie which tells the story of the show's creation with emphasis on the actor William Hartnell who portrayed the First Doctor, was challenging if you have in mind that there are many people like me who never watched it, and others who never heard of it (yes, billions in China have no idea who Dr.Who was) . One of the best things was that the screenplay was written by the Doctor Who and Sherlock writer Mark Gatiss, which gives us insider's story! I really have to say that I simply loved the movie! And the casting was really something... David Bradley, Jessica Raine, Sacha Dhawan, Lesley Manville and Brian Cox were real stars shinning the brightest possible way under the secure leadership of the director Terry McDonough. Real enjoyment to watch. I was pleased to learn as much as possible about 1966, and William Hartnell (David Bradley) as an actor and person. And everything starts with the end, where he insults a stagehand who calls him to the set, where the delay caused by his absence is noticed. Hartnell enters in costume, ready to film his last moments as the First Doctor and stands in front of the TARDIS console! If you want to see how a piece of history was made, with excellent actors, insider's screenplay and directing which was safe and secure to please the crowds, please, do not miss this one. Smooth, emotional, engaging and full with nostalgia and love.
A thoughtful, handsomely produced, cleverly structured and absolutely wonderful piece of work. An excellent and outstanding movie. A poignant and insightful look into the creation of Doctor Who and the ups and downs of the men and women to try to make this legendary series work and succeeds well in making a good impression. A wonderfully funny, remarkable and terrific origin tale. One of the best television productions I have seen all year in 2013. The cast is truly superb, they give great love and dedication to the roles to make these characters shine. David Bradley is absolutely magnificent, his performance as William Hartnell is truly a gem. Bradley shines all the way through. Writer, Mark Gatiss's script and Director, Terry McDonough's craft, make this true television magic to watch. An effective, smart, moving and powerful movie.
½
In 1963, BBC Head of Serials Sydney Newman(Brian Cox) is looking to fill a time slot on Saturdays around 5:00 pm. Along that line of thought, he has a science fiction program in mind, to be produced by his former protege Verity Lambert(Jessica Raine). She in turn hires Waris Hussein(Sacha Dhawan) to be the show's first director and William Hartnell(David Bradley, who is superb), a veteran character actor who was looking for a change of pace, to be its star. All of which Newman approves of, just as long as there are no bug eyed monsters... "An Adventure in Space and Time" is a mostly inspired look at the early years of Doctor Who, saluting its heroes.(Sydney Newman also having developed "The Avengers," one of my other all-time favorite shows, makes him eligible for sainthood in my book.) Instead of dampening the magic of the show in this lively backstage look, this docudrama actually adds some magic of its own, while thankfully having little nostalgia for the time period involved. One part of that is the constant change involved with Doctor Who that William Hartnell who enjoyed a winter revival with the show felt increasingly worn down by, along with his poor health.(It's a nice touch that there are also mentions of some of his other roles.) That leads me into the only serious problem I have with this movie. From what has been written elsewhere but not really alluded to here, the Doctor was actually a co-lead character with Ian Chesterton in the first two years of the program, with Hartnell actually not being in a huge chunk in the serial 'The Keys of Marinus' from season one.
An Adventure in Space and Time Quotes
There are no approved quotes yet for this movie.