An Education
(2009)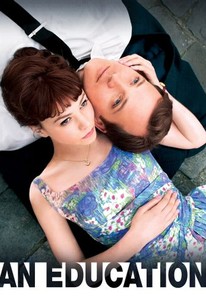 TOMATOMETER
AUDIENCE SCORE
Critic Consensus: Though the latter part of the film may not appeal to all, An Education is a charming coming-of-age tale powered by the strength of relative newcomer Carey Mulligan's standout performance.
Movie Info
It's 1961 and attractive, bright 16-year-old schoolgirl, Jenny is poised on the brink of womanhood. Stifled by the tedium of adolescent routine, Jenny can't wait for adult life to begin. One rainy day, her suburban life is upended by the arrival of an unsuitable suitor, 30- ish David. Urbane and witty, David introduces Jenny to a glittering new world of classical concerts and late-night suppers. Just as the family's long-held dream of getting their brilliant daughter into Oxford seems within reach, Jenny is tempted by another kind of life. Will David be the making of Jenny or her undoing?
Critic Reviews for An Education
Audience Reviews for An Education
½
Good, but slightly disappointing as I really expected to love this one. Something about that character just annoyed the living crap out of me, I found her smug and a little upstart, and quite honestly by the time the story inevitably went to hell, it took me that long to feel anything for her at all. (And I do generally like Carey Mulligan in films). Peter Sarsgaard's character is just a sleazy conman and the pair have zero chemistry. While I can appreciate the idea of a young girl from a modest background who wants something more out of life than to get married and breed or have a dead end job in the town she was born in, this girl was really a little cow at times. So condescending and pretentious with her speaking in French etc. The only reason I eventually felt sorry for her was because I hated him so much more! It is not by any means a bad film, it is very well made and some beautiful scenery in France and also the 60's outfits. Just something with me personally found this grating. I wish I had liked it more. 2017 - rewatched this as I wondered if it was just my mood at the time - it really does seem like a character I could relate to. Nope. Still not into it. I think I loathed him even more the second time around and I still found her insufferable.
Nicki Marie
Super Reviewer
½
Has the heart at the right spot and comes with fine acting performances, especially by the great Molina and then-newcomer Mulligan but lacks a bit of punch. The plot burbles along without any major highlights until the final revelation. That's somewhat charming but also, sorry, a bit boring.
A charming, provocative and, above all, mature coming-of-age drama with a simple yet morally complex story that never gives in to easy solutions - and, while the cast is wonderful, it is Carey Mulligan who definitely shines in a remarkable performance.
Carlos Magalhães
Super Reviewer
An Education Quotes
| | |
| --- | --- |
| Headmistress: | nobody does anything worth doing without a degree |
| Headmistress: | Nobody does anything worth doing without a degree. |
| Helen: | nobody does anything worth doing with a degree. no woman, anyway |
| Helen: | Nobody does anything worth doing with a degree. No woman, anyway. |
| | |
| --- | --- |
| David: | I studied what they call the university of life. Didn't get a very good degree there. |
| | |
| --- | --- |
| Jenny: | Action is character,our English teacher says. I think it means that if we never did anything, we wouldn't be anybody and i never did anything before i met you. |
| Jenny: | Action is character, our English teacher says. I think it means that if we never did anything, we wouldn't be anybody and i never did anything before i met you. |
| Jenny: | Action is character, our English teacher says. I think it means that if we never did anything, we wouldn't be anybody and I never did anything before I met you. |
| | |
| --- | --- |
| David: | I'm going to read what I want, and listen to what I want, and I'm going to look at paintings and watch French films, and I'm gonna talk to people who know lots about lots. |
| Jenny: | I'm going to read what I want, and listen to what I want, and I'm going to look at paintings and watch French films, and I'm gonna talk to people who know lots about lots. |