Anaconda
(1997)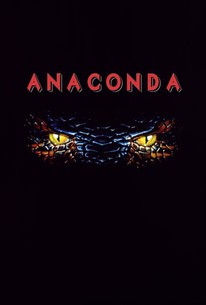 TOMATOMETER
AUDIENCE SCORE
Critic Consensus: Anaconda's pulpy pleasures are constricted by its own absurdity, but creature feature fans may enjoy its brazen silliness.
Movie Info
A documentary film crew journeys to the depths of the Amazon in search of the mysterious Shirishama Indians, and ends up fighting a gargantuan, insatiable snake that squeezes its prey to death, eats it whole, regurgitates it and then eats it again.
News & Interviews for Anaconda
Critic Reviews for Anaconda
Audience Reviews for Anaconda
½
Even if you manage to overlook how idiotic and laughable all that (highly) inaccurate information about anacondas is, it is still hard to ignore the nonsensical plot, the embarrassing dialogue, the really atrocious special effects and the terrible acting from everyone on screen.
Carlos Magalhães
Super Reviewer
Paul Serone: They strike, wrap around you. Hold you tighter than your true love. And you get the privilege, of hearing your bones break before the power of embrace causes your veins to explode.  "When You Can't Breath, You Can't Scream" Anaconda is another variation on the creature feature film. This one is very much living in the shadows of Jaws, and that was by design. It's trying to use that formula, but with a killer Anaconda. None of this works obviously as we watch a terrible looking Anaconda, a bunch of big name actors that aren't trying, and have to listen to the brainless dialogue and actions of these characters. A group of filmmakers are on their way to try to find a hidden tribe in the Amazon. On their way, they find a broken down boat with a man on it, who they take aboard. He claims to have seen the tribe they are looking for and promises to guide them to the tribe. Well, actually he's a snake catcher and is trying to find a colossal sized snake. That he does and soon everyone on the boats life is in danger, as a gigantic Anaconda is preying on them. As far as creature feature films go, this could have actually been a lot worse. There's a little fun to be had in all of the ridiculousness, but so little it doesn't make this worth a watch. I didn't enjoy it, but for hardcore fans of the genre, it may be worth a look. 
Melvin White
Super Reviewer
Anaconda is a mediocre film and echoes creature films of the 1970's such as Jaws, Piranha and Grizzly. Except this time around it's a giant Anaconda wreaking havoc. The film had the potential of being so much better, and it has plenty of flaws. One thing is the special effects, which look cheap and the other is the bad acting, which ruin the film. The characters aren't that well developed so you don't care who gets eaten or not. Despite its mediocrity, the film manages to be fun at times, but it's not great. Don't watch this film expecting great things to come out of it, you'll be disappointed. This film was a theatrical B movie and it shows. The film had potential of being much better, and it could have been quite a memorable monster film, but it's quite forgettable. The story could have been reworked to make it better, but it all feels rushed, like the filmmakers didn't care about the end result. For horror fans that enjoy mediocre B movie style horror films, then check this one out, but for fans who love killer creature films with a little more substance, pass up on this. As a whole, Anaconda is wasted opportunity, one that is a disappointing film. I didn't really care for the films direction, and you end pretty bored halfway through the film, even with all the snake chaos going around. This was an effort by a director who simply didn't know how to create an effectively chilling creature. Some directors have brilliantly pulled it off, but not Luis Llosa, whose 40 foot Anaconda really does look fake plus add to that a cast that can't act, and you have a horror film that is forgettable, and not worth your time.
Anaconda Quotes
| | |
| --- | --- |
| Gary Dixon: | Remember, you don't know shit about the shit we're in, and neither do I. |
| | |
| --- | --- |
| Paul Sarone: | This river can kill you in a thousand ways. |
| | |
| --- | --- |
| Warren Westridge: | Last time I was in water like this, I was up all night picking leeches off my scrotum. |
| | |
| --- | --- |
| Warren Westridge: | Last time I was in water like this, I was up all night picking leeches off my scrotum. |